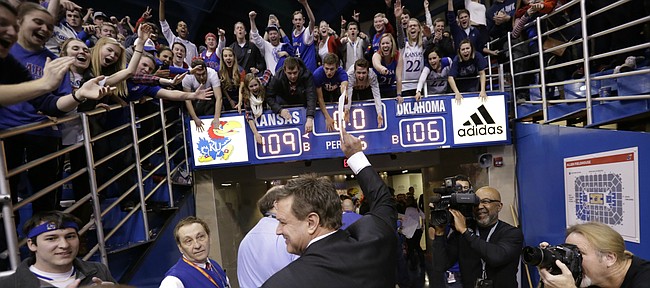 Buddy Hield's last-gasp three-point shot missed and finally, after three overtimes, Kansas University's No 1-ranked basketball team had won a game of the ages, a 109-106, thriller over No. 2 Oklahoma in Allen Fieldhouse.
It's a wonder Hield's shot clanged, considering his 46 points, yes 46 points, on Monday matched Kansas State's Mike Wroblewski for highest scoring output in a game by a KU foe in Allen Fieldhouse in school history.
Wroblewski's mark came way back in 1962. 
That's right, 1962.
Photo Gallery
Kansas basketball v. Oklahoma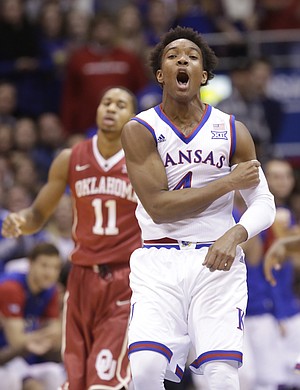 View images from Monday night's game between the Jayhawks and Sooners at Allen Fieldhouse.
"Buddy is awesome. He's a great player. He can score from anywhere ... but we wanted it so bad," said KU senior forward Perry Ellis, who responded with 27 points and 13 rebounds for the Jayhawks in the first three-OT game in fieldhouse lore.
"It's the toughest game I've ever played. We never stopped fighting," Ellis added.
Once the thriller ended, freshman Cheick Diallo stood on the press table and waved wildly to the fans while other players and coaches slapped five and hugged as they headed out the northwest tunnel to the locker room.
Quite an end to a day in which KU was ranked No. 1 in the AP poll and Oklahoma took over the top spot in the USA Today/coaches poll.
"It was an unbelievable game, probably the best game I've ever been part of in the regular season," said KU coach Bill Self. "The Missouri one here (in final meeting in series history) is the only one that comes to mind. That was such an emotional game. They are good. They could win a national championship," Self added of the Sooners. "I look at their bench, their coaches are smiling, laughing at me and me at them (because of the epic contest). It was ridiculous how well both teams were playing and how many shots went in.
"I'm so proud of our guys. This is draining emotionally. We may have to take couple days off. It's certainly one of the most fun nights I've had here," added the 13th-year KU coach.
Podcast episode
Kansas basketball coach Bill Self marvels at the display put on by the No. 1-ranked Jayhawks and No. 2 Oklahoma after KU's 109-106, triple-overtime victory at Allen Fieldhouse.
The Jayhawks, who blew an 11-point first-half lead and overcame a 10-point second-half deficit, had so many big plays in the thriller. But here's a look at the ones that won the game in the third OT.
First, Wayne Selden Jr. (21 points) was fouled on a three-point try that busted a 94-94 tie. He missed the free throw, but KU had a three-point lead early in OT. Ellis and Devonté Graham (20 points, seven boards) hit two free throws apiece and KU led, 102-98, with 2:53 left.
OU then surged to grab a 103-102 lead, Selden putting the Jayhawks back in front, 104-103, with a nice scoop shot at 1:14. 
Podcast episode
Kansas players Perry Ellis, Devonté Graham and Frank Mason III react to the Jayhawks' crazy, triple-overtime victory over Oklahoma.
KU trailed 106-105 when Landen Lucas batted the ball from Hield and Graham was fouled on the other end. He hit two free throws and KU led, 107-106 at :15.2
Hield then took the ball out of bounds, but Mason batted it with his left hand, then grabbed the ball with both hands and was fouled, hitting two free throws with 8.6 seconds to play and giving KU the three-point lead.
"Here a little 5-9 guy steals the ball with a 6-5 guy throwing it in," Self marveled. "Frank labored all night long, then makes great plays to win the game."
OU had eight seconds to hit a three and tie it. Did Self consider fouling the Sooners to avoid a last-second trey try?
"I said, 'Let's foul 'em. Then at the end of the time out said, 'Let's guard their ass,''' Self said. "There were key plays, a ton of 'em," Self added.
Of the crucial steal on the out of bounds play, Mason said: "Right before the play started the ref told me not to get close to the line. I took a step closer and went all out to deny. I got a deflection and got the steal.
"It was a great feeling," he added. "I'm just happy I made the free throws and was able to get a deflection and make the free throws at the end."
Mason actually guarded Hield the second half.
"I was going to put Devonté on him to start the half. Frank comes to me and said, 'I'll guard him, coach. I'll get underneath him,''' Self said. "Frank guarded the heck out of him the second half and he got 24. Buddy's great and is such a class kid.
"To think, all we did was win at home," Self joked. "Think of how hard it'll be to win on the road. It couldn't have been scripted better tonight as a showcase for our league."
Self said, "both teams were exhausted. Perry shoots two air-balls at the end 'cause of fatigue. I'm proud of our guys. January 4 is too early to be having games like this. Everybody is going to be talking Big 12 right now nationally."
Of Ellis' play, Self said: "He played great. He played inside tonight. Lattin (Khadeem, who missed a free throw that could have won it at the end of regulation) was blocking every shot and Perry did a good job going at him inside."
The Jayhawks, who travel to Texas Tech Saturday, were fired up after the epic game. KU's fans were so awed by the action they graciously gave OU's Hield a standing ovation as he exited the arena.
"I could play two more overtimes right now," Mason (15 points, 5-20 shooting) said with a smile. "It was a great night. I couldn't be more proud of my teammates."
— See what people were saying about No. 1 versus No. 2 during KUsports.com's live coverage
---
More news and notes from No. 1 Kansas vs. No. 2 Oklahoma
---
---
---