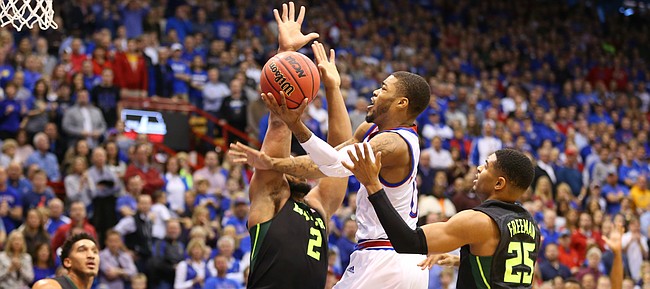 Roughly 18 minutes after the final horn sounded on his team's 102-74 loss at second-ranked Kansas University, Baylor coach Scott Drew tried to scoop the Associated Press voters whose weekly Top 25 ballots are due Sunday night.
"I think there's no doubt who the No. 1 team in the nation is," Drew said in his opening statement to the media inside Allen Fieldhouse. "If they're shooting like this and they take care of the basketball (and) defend, it's gonna be hard for anybody to beat 'em."
That certainly was the case for the Bears (10-3 overall, 0-1 Big 12) on Saturday, when KU (12-1, 1-0) raced out to a 24-4 lead and never looked back en route to becoming the first team to top 80 points against Baylor in 61 games. Entering Saturday, that was the Big 12's longest streak of holding opponents to 79 points or fewer. But given that KU shattered the mark by 23 points, the Bears surely left town feeling like the streak was a distant memory.
Photo Gallery
Kansas basketball v. Baylor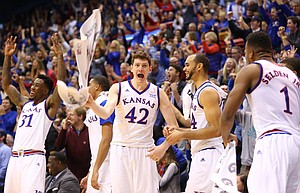 Images from Saturday's game between the Jayhawks and Bears at Allen Fieldhouse
"We thought if we could do what our zone did last year to 'em," Drew began. "Slow 'em down a little bit, give ourselves a chance to make it a game, take the crowd out of it.... (That) obviously didn't happen."
Not even close.
KU's torrid start had more than a little to do with that. Asked if they could explain what went wrong in the opening six minutes, when KU shot 75 percent from the floor and 85 percent from three-point range, Baylor's Taurean Prince remained silent and senior guard Lester Medford gave it a shot.
"They just hit some great shots, played good basketball, got on a good run and stuck with it the whole game," said Medford, who tallied 15 points in 34 minutes. "They're a great team. Anytime you come to Kansas, you know that they are going to bring it."
Saturday, in many ways, redefined 'bringing it.' The Jayhawks topped 100 points for the third time this season and the first time against a Big 12 foe since 2013. In addition to being the most points ever scored by Kansas against Baylor, the 28-point victory also marked KU's biggest beat-down of the Bears since 1998, when KU topped BU, 94-47, in Lawrence.
Podcast episode
Kansas basketball players Wayne Selden Jr., Perry Ellis and Devonté Graham discuss the Jayhawks' Big 12-opening, 102-74 victory over Baylor, and a little about likely being ranked No. 1 next week.
KU junior Wayne Selden Jr. certainly looked like he was gunning for those types of numbers. Selden, KU's leading scorer, who, with 24 points on 9-of-16 shooting, now has topped 18 points five times this season, fell one point shy of tying a career-high and left quite an impression on the Bears.
"Much more mature player," Drew said. "Confident. He can do more. You look out there and he's a man now. That's what you get when you get juniors and seniors."
Added Prince: "He's definitely improved his three-point threat, and he's always been a good driver. So when you become a good three-point shooter it opens up a lot for you. He put on a show today."
Podcast episode
Kansas basketball coach Bill Self discusses the Jayhawks' 102-74 win over Baylor to open Big 12 play, and the coming Big Monday showdown at Allen Fieldhouse with Oklahoma.
It may be crazy-early in the Big 12 season, but Drew seemed to leave Lawrence with the firm belief that the Jayhawks remained the favorite to win conference title No. 12 in a row.
"If anything," he said. "They might be tough to coach because they've got too many options, too many weapons."
— See what people were saying about the game during KUsports.com's live coverage
---
More news and notes from Kansas vs. Baylor
---
---