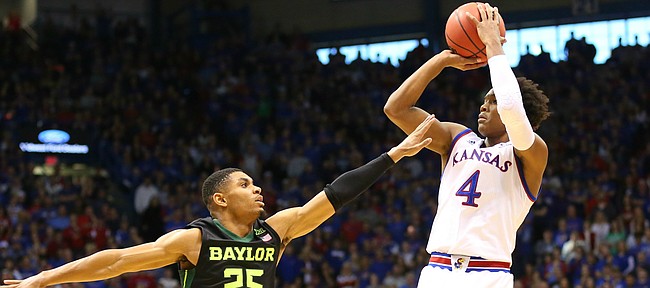 Even members of a Kansas fan base that sets expectations for its basketball team higher than Andrew Wiggins ever dreamed of soaring sported expressions of disbelief at the way the Jayhawks overwhelmed a nationally-ranked opponent at the outset of Saturday's Big 12 opener.
Looking so fast, so unselfish, so skilled, Kansas never gave No. 23 Baylor a chance en route to an impressive 102-74 showcase of why KU will be ranked No. 1 when the Associated Press college basketball poll is released Monday.
By the time just 6 minutes, 24 seconds had elapsed, Kansas already had a 24-4 lead that turned the happy crowd wild.
Photo Gallery
Kansas basketball v. Baylor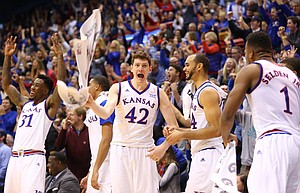 Images from Saturday's game between the Jayhawks and Bears at Allen Fieldhouse
"We were energetic throughout the whole run and it was just fun," sophomore guard Devonté Graham said.
As usual, the spotlight didn't shine directly on Graham, because a teammate, in this case Wayne Selden Jr., had an even better game. Yet, as usual, Graham was right there in the middle of everything Kansas did well, which on this day was everything.
Coach Bill Self's decision to start games with Graham and Frank Mason III in the backcourt and Selden as the third ball-handler has been a huge factor in KU's terrific start. It's enough to raise the question of whether the team would have been better a year ago with Kelly Oubre Jr. in a sixth-man role. Too late to worry about that. The lineup is clicking perfectly so far this year.
It's always a good sign when a team practices what its coach preaches and Self forever paints the move into Big 12 play as a major step up, one that requires improved performances. Clearly, his players took that message seriously and evidence of that started before the 16,300 witnesses could see the players.
Podcast episode
Kansas basketball players Wayne Selden Jr., Perry Ellis and Devonté Graham discuss the Jayhawks' Big 12-opening, 102-74 victory over Baylor, and a little about likely being ranked No. 1 next week.
"First conference game," Graham said afterward. "We were all in the locker room, hyped, jumping around, telling the young guys how it would be, like Carlton (Bragg), the crowd was going to be loud, we knew everybody would be excited for conference play and we know we've got to step our game up for conference play and we were just prepared."
Just 128 seconds into the game, Graham spread his winning style all over the court, sandwiching a pair of three-pointers around a steal to give Kansas an 8-1 lead.
Graham celebrates his three-pointers and those of teammates, but does it in a way that pleases his coach.
Podcast episode
Kansas basketball coach Bill Self discusses the Jayhawks' 102-74 win over Baylor to open Big 12 play, and the coming Big Monday showdown at Allen Fieldhouse with Oklahoma.
"Devonté's a great compliment to Frank, because Frank's not like that," Self said. "Frank, during introductions, a guy may have to nudge him to make sure he's awake to go out there. He doesn't show emotion like that, even though he's a fierce competitor, as everybody knows.
"But Devonté's one of those guys who smiles and has personality and this team needs that. I think that we can be a little bit stone-faced at times and not quite as enthusiastic. I think Devonté and Carlton, more than anybody else, bring that to us."
Graham matched his season high with 15 points and took just eight shots from the field. He also had four assists, three steals and not a single turnover.
Graham knows how to pressure defenses by getting to the lane and puts even more pressure on ball-handlers and passers at the other end. It's fairly unusual for a player to have more steals than turnovers, but Graham has 25 steals and just nine turnovers. In the past six games, he has 21 assists, three turnovers and 11 steals. (Mason, Hunter Mickelson and Evan Manning also have more steals than turnovers.)
Self said that so far Selden has been the team's "best player, hands down, but it's a lot easier to play when those two little guys are out there with him. And I do have confidence in those guys being able to guard the ball and those guys being able to make plays for others."
Graham also was a huge factor in another game in which Kansas raced to an amazing start. In a 92-73 victory against UCLA in Maui, a game in which Kansas took a 59-33 halftime lead, Graham held the Bruins' Bryce Alford (17.4 points per game) to one field goal and a season-low six points.
Graham appears to be loving every minute of his sophomore season and won't let any pressure of a No. 1 ranking taint that.
He chose the perfect words to discuss that hot topic: "We might as well be happy with it and know guys are going to be coming for us trying to get that No. 1 spot, and we've got to be humble and hungry and just keep going at it and grinding."
— See what people were saying about the game during KUsports.com's live coverage
---
More news and notes from Kansas vs. Baylor
---
---