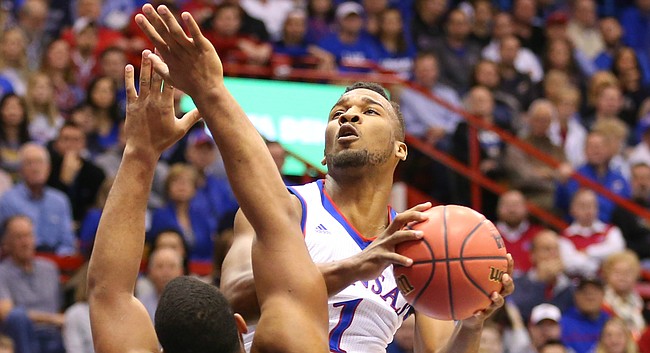 Stop me if you've heard this one before: The Baylor Bears walked into Allen Fieldhouse on Saturday afternoon and, as soon as the ball was tossed into the air for the opening tip, never stood a chance.
A wave of emotion and offense, sparked mostly by some hot shooting from behind the arc, helped second-ranked Kansas (12-1) roar out to a 20-point advantage in the game's first few minutes, and even though the Bears weathered the storm and hung around in a relative sense, the Jayhawks were never tested en route to a 102-74 victory.
The win got KU's quest for a 12th consecutive Big 12 title off to a good start.
Junior guard Wayne Selden Jr. fell just short of a career-high (25) with 24 points to lead the Jayhawks to victory. Selden hit his first seven shots and reached 20 points on just 10 shots.
Photo Gallery
Kansas basketball v. Baylor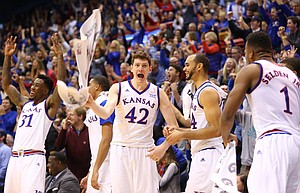 Images from Saturday's game between the Jayhawks and Bears at Allen Fieldhouse
Perry Ellis (17), Devonté Graham (15) and Frank Mason III (11) all chipped in strong showings on offense to help the Jayhawks get conference play off on the right foot.
Hunter Mickelson, who grabbed six rebounds and fouled four times, also blocked three shots and altered countless others in limited minutes.
Here's a quick look back at some of the action:
• The game turned when: KU worked through its opening possession struggles with an avalanche of an offensive onslaught that made Baylor's difficult and tenacious zone defense look like something KU would face in practice.
• Offensive highlight: In reality, you could count that entire 5-6 minute opening stretch as one big highlight, as the Jayhawks raced out to a 24-4 lead behind 75 percent shooting from the floor and 85 percent shooting from three-point range. Included among the early baskets were: a three-pointer from Graham, a flying rebound and put-back by Ellis, a Selden drive to the rim, three Selden three-pointers that were no-doubters the minute they left his hand and a top-of-the-key three from Ellis.
• Defensive highlight: Despite Baylor's struggles on offense in the first half, reserve guard Al Freeman got to the rim with some regularity in the first 20 minutes. That changed, however, with just over four minutes to play in the first half, when KU freshman Cheick Diallo stalked Freeman as he drove down the left side of the lane and easily swatted a shot attempt out of bounds to keep the sophomore from adding to his point total.
Podcast episode
Kansas basketball players Wayne Selden Jr., Perry Ellis and Devonté Graham discuss the Jayhawks' Big 12-opening, 102-74 victory over Baylor, and a little about likely being ranked No. 1 next week.
• Key stat: Three-point shooting. The Jayhawks blistered the nets in the early going, making seven of their first eight shots from downtown to build that big lead. KU finished with 11-of-19 from three-point range, which accounted for 24 more points than Baylor got from behind the arc on 3-of-11 shooting. There was a lot more that went into it, but that point disparity was pretty much the difference.
Podcast episode
Kansas basketball coach Bill Self discusses the Jayhawks' 102-74 win over Baylor to open Big 12 play, and the coming Big Monday showdown at Allen Fieldhouse with Oklahoma.
• Up next: The Jayhawks, most likely ranked No. 1 in the nation, will return to Allen Fieldhouse for a showdown with potential No. 2 team Oklahoma at 8 p.m. on the first of four Big Monday games on ESPN.
— See what people were saying about the game during KUsports.com's live coverage
---
More news and notes from Kansas vs. Baylor
---
---