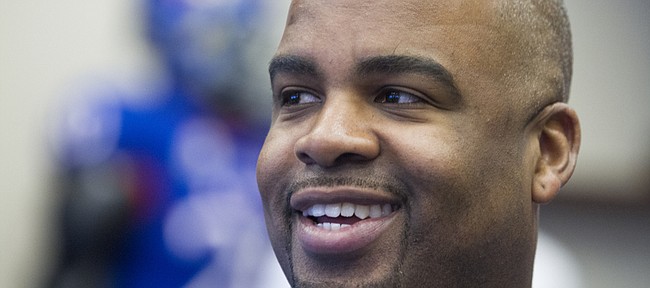 According to multiple reports out of Oklahoma, Kansas University's football program is losing its fifth full-time assistant coach of the offseason.
One day after interviewing for the vacant defensive-line coaching position at his alma mater, defensive-line coach Calvin Thibodeaux has accepted an offer to join Bob Stoops' coaching staff at Oklahoma, according to various reports from those who cover the Sooners.
Thibodeaux follows the lead of Kevin Kane (Northern Illinois), Reggie Mitchell (Arkansas), Klint Kubiak (Denver Broncos) and Gary Hyman (demoted, then Indiana State) who all left KU coach David Beaty's staff in the past couple of months.
While sending another punch to the gut of the KU football program, the news was of particular interest to standout Lawrence High senior Amani Bledsoe, who committed to Stoops and Oklahoma late last month over Thibodeaux and Kansas. Bledsoe told the Journal-World on Tuesday night that he found out about Thibodeaux's departure from a handful of text messages from friends and media mid-day Tuesday. The two communicated briefly via Twitter after Bledsoe heard the news, and the excitement on both ends was obvious.
"It's a pretty good feeling knowing that the guy I'm going to play for down there is somebody I'm already familiar with," Bledsoe said. "I really like his coaching style and can relate to it. It makes sense to me."
Bledsoe said Thibodeaux remained supportive a few weeks ago when he broke the news that he was picking the Sooners. The now-former KU coach's demeanor then made Tuesday even more exciting for Bledsoe.
"Those connections you make with coaches during recruiting are hard to break," Bledsoe said. "And I'm glad I don't have to break this one."
Four of KU's five departed assistants left for what only can be described as better jobs, with raises and/or promotions being a heavy factor in their decisions to pursue opportunities elsewhere.
While the offseason hires of wide-receivers coach Jason Phillips and Todd Bradford helped offset two of the five openings, the loss of Thibodeaux leaves Beaty searching to fill three vacancies on his staff just 13 days before the start of spring practices.
Perhaps more importantly, Thibodeaux's departure takes an absolute bulldog off of KU's practice field, where the 32-year-old Houston native made his reputation.
"Thibs was a great coach," said former KU defensive end Ben Goodman, who played for Thibodeaux in 2015. "He just elevated my expectations every day, and he didn't let me settle, even in practice. He was out there sometimes. He was probably the hardest coach to play for out there. He was intense. And he didn't care about your feelings. I really loved that about him. That man's livelihood was on the line, and he wanted to make us the best we could be because he knew that would make him look good. He made me go to a whole different level that I didn't think I could go to."
Regarded by many football minds in the Big 12 as an up-and-comer in the profession and well liked by everyone on KU's staff, Thibodeaux came to Kansas after three years at Tulsa and previous stops at Houston and Dartmouth.
He played for Stoops at Oklahoma from 2002-06 and earned All-Big 12 honors as a defensive lineman under his new boss. He will replace Diron Reynolds, who left the OU staff for Stanford after one season in Norman, Okla., and becomes OU's third defensive-line coach in the past three years.
Goodman, who suffered through 51 losses in 61 games during his five-year KU career and is now in Houston training for KU's March 23 pro day, said it was hard to hear about the bad luck that hit his alma mater in the coaching ranks during the past couple of months, but said he believed it was not a time to panic.
"You can quote me on this," he said. "The program is still in great hands, even though these coaches decided to go a different route, which I respect. Coach Beaty knows what he's doing, he definitely has a plan, and he's gonna get that thing turned around."