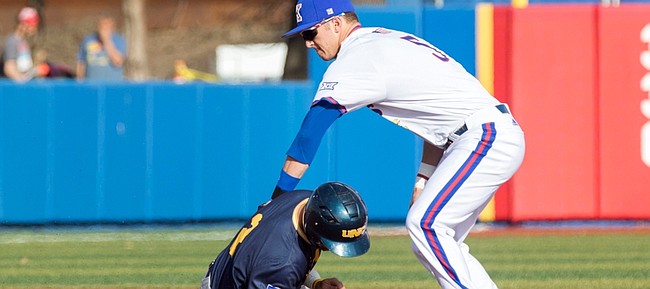 Kansas University's baseball team rallied to score three runs in the bottom of the ninth inning to score a 5-4 victory over Northern Colorado in the Jayhawks' home opener Monday afternoon at Hoglund Ballpark.
The Jayhawks (1-1) sent eight batters to the plate in the final frame and took advantage of an early-inning miscue to put pressure on UNC reliever Cody Carroll (0-1), who walked in both the tying and winning runs with two outs in the bottom of the ninth.
"We took advantage of the lead-off error and the hit-by-pitch on (senior Tommy) Mirabelli," KU coach Ritch Price said. "Obviously, (senior Steve) Goldstein's drag-bunt single to load the bases with no outs was huge."
With the bases loaded, senior second baseman Colby Wright hit into a fielder's choice, and junior centerfielder Joven Afenir drove in a run with a sacrifice fly, cutting the deficit to one, 4-3, with two outs.
Sophomore shortstop Matt McLaughlin followed and legged out an infield single to short, loading the bases for junior catcher Michael Tinsley.
Tinsley drew the four-pitch walk from Carroll to tie the game at 4, before senior Ryan Pidhaichuk followed suit and drew a 3-1 walk and end the game with the winning run trotting in from third.
"That was an ugly win," Price said. "However, I think the big thing tonight was the tough start by (freshman righty Jackson) Goddard. He was really nervous and really struggled with his command. I think the only way you can come from a three-run deficit is if your bullpen keeps putting up zeroes."
That is just what the KU bullpen did. The Jayhawks sent three pitchers to the mound in relief and they surrendered just three hits and one unearned run. Sophomore righties Tyler Davis and Ryan Ralston each allowed one hit and struck out two batters — the only difference is Davis tossed three innings while Ralston pitched two.
The only blemish in the bullpen was the one run junior closer Stephen Villines (1-0) gave up in the ninth after an error on Goldstein in right field set up a scoring opportunity for the Bears.
Northern Colorado 001 200 000 — 4 9 2
Kansas 000 000 113 — 5 10 4
W — Villines, Stephen, 1-0. L — Carroll, Cody, 0-1.
2B — Yamane, Cashel, Northern Colorado; Afuner, 2, Kansas.
KU highlights — Afenir, 3-4, rbi; McLaughlin, 2-5; Tinsley, 1-4, 2 rbi; Pidhaichek, bb, rbi; Karre, 1-3, bb, rbi.