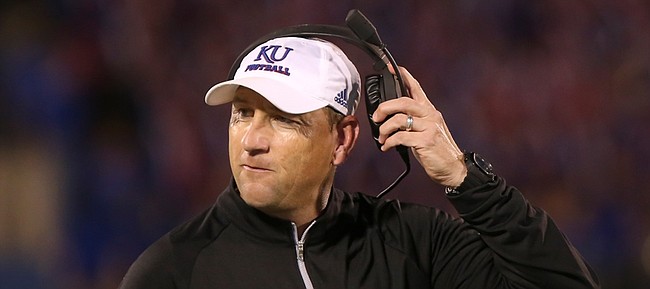 Kansas University football coach David Beaty would rather not lose half of his assistant coaches during just his second year in charge of the Jayhawks.
But with four coaches already out the door and Beaty sweating the possible departure of a fifth — defensive-line coach Calvin Thibodeaux interviewed Monday at Oklahoma — there is one area of his program that Beaty is not worried about being negatively impacted by the heavy turnover on his staff: recruiting.
A big reason Beaty remains comfortable about his ability to bring quality players to Lawrence is the approach he has to signing future talent.
"We recruit every one of those kids as a staff, as a family," Beaty said. "We don't recruit individually."
As is the case with most college programs, Beaty's nine full-time assistants are responsible for recruiting different regions of the country, with the greatest emphasis on Texas, Oklahoma, Kansas and areas nearby.
The assignments generally are handed out based on past success in a certain area, strong ties to a particular school or city and familiarity with the area and its football philosophy and history.
A coach might be the one to identify initially a player whom KU wants to target, but once he does, Beaty and several other assistants get in on the act of inspiring the young man to commit to Kansas.
"(Co-defensive coordinator) Kenny Perry didn't sign four guys. We signed 15 guys," Beaty said. "When we hired 'em, we talked to 'em about that. It's not a premium on how many guys you sign or who signed who. We are about signing the right guys and we all do it together."
On most websites that track recruiting, such as Rivals.com or 247sports.com, the name of the lead recruiter from each program pursuing the athlete often is attached to a prospect's bio.
And that has proven to be true for KU, as well.
"Somebody's name may go on it because he came from that (coach's recruiting territory)," Beaty said. "But that's not how it works. We recruit 'em together. So, from that standpoint, I really don't see things changing."