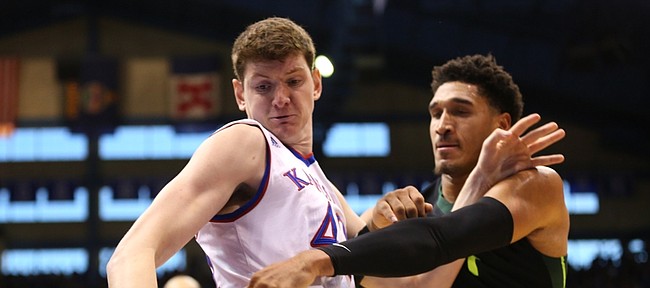 Waco, Texas — Baylor junior guard Ishmail Wainright, who is 0-6 against Kansas University in his college basketball career heading into today's 7 p.m. battle in Ferrell Center, knows all about the winning tradition of KU hoops.
The 6-foot-5 Kansas City, Mo., native is related to one of the most notable players in Jayhawk history.
"My grandfather went to KU. He played on the same team as Wilt Chamberlain — Maurice King," Wainright revealed to the Journal-World at Big 12 Media Day.
"They got second. He was on that team," Wainright added of the 1956-57 Jayhawks, who lost to North Carolina, 54-53, in three overtimes in the '57 NCAA title game in Municipal Auditorium in KC. "I've been trying to get some stuff from my father about him."
King, who died in 2007, was the first African-American starter in KU history and the first African-American player to letter and travel with the Jayhawks. He played at KU from 1953 to '57, then later won an NBA title with the Bill Russell-led Boston Celtics in 1960.
King returned to KC after his playing career ended, working for Hallmark until 1991. After that, he mentored children at the Spofford Home and Fortress of Hope Church and always was willing to share his story in an attempt to inspire.
"I went to KU games, MU games, and because it was the home school, UMKC games (as a youngster). Playing against KU always is amazing. It's just amazing," said Wainright, who had seven points and seven boards in KU's 102-74 rout of the Bears on Jan. 2 in Allen Fieldhouse.
So far this season, Wainright has averaged 5.6 points and 4.0 rebounds a game (with 75 assists, 37 turnovers) for a BU team (20-7, 9-5) that trails KU (23-4, 11-3) by two games in the Big 12 standings.
"I want to be a coach. I want to be a mentor. I want to give back to my community in Kansas City, open up gyms all around the city," Wainright said of his future goals being as ambitious as his grandfather's. "I'm not the type of guy to say I want this, that, whatever comes my way, whatever I get," he added.
Wainright — he has hit eight of his last 12 threes the last five games — is known as one of the most unselfish players in the Big 12, a good teammate above all else.
"My goal personally is get my guys, Rico Gathers, Taurean Prince and Lester Medford (seniors) onto the next level and finish their year out with a big bang, that's my personal goal," said Wainright, who has 152 points this season after scoring 103 total his first two seasons combined.
Gathers, a 6-8, 275-pounder, recently missed two games because of flu-like symptoms. For the year, Gathers averages 12.2 points and 10.0 rebounds. He had 12 points and nine boards vs. KU on Jan. 2.
"That's who I battle with every day to get off the boards," Wainright said, referring to the bruising Gathers. "I learn stuff from him every day, different tricks, different ways to get better position when it comes to that. It's no secret he's just a monster on the boards. If he wants the ball, he's going to get it. He's going to rip it out of your hands."
Gathers last season scored nine points and grabbed 14 rebounds in KU's narrow 56-55 win in Waco.
"Rico ... he's an athlete," KU coach Bill Self said. "He's a guy you think that would be an NFL tight end. Great hands and is active and can move around and can run. I mean, he's a real athlete. There's few guys in college basketball if any that rebound like Rico.
Prince, a 6-8 forward, averages 15.1 ppg and 5.7 boards, while Medford, a 5-10 point guard, checks in at 9.7 ppg and 6.7 assists per contest.
Baylor has won two straight games — 78-64 Saturday at Texas and 100-91 vs. Iowa State in OT last week. BU has suffered three home losses in league play — to Oklahoma, Texas and Texas Tech.
"I don't think they've had bad losses. Our league is so tough," Self said with a shrug. "Nobody has been very consistent. A lot of teams are up and down in our league. It's just a great league."
Game time set: Game time for the KU-Iowa State game has been set for 3 p.m., March 5. That will double as Senior Day for Perry Ellis, Jamari Traylor, Hunter Mickelson and Evan Manning.
Pesky zone: One challenge in playing Baylor is attacking the Bears' zone defense.
"Baylor's zone has length in it. It's hard to attack it," sophomore Devonté Graham said.
"Their zone ... with their size, strength down low. That zone can take different forms at times. It's difficult to get in there," junior Wayne Selden Jr. said.
Closer game: Self isn't expecting a lopsided score as in the first meeting.
"We played great the first time. We got off to a 24-4 run," Self said. "They didn't play much zone. We made shots early and kind of got them out of it. Our guys know they are playing at a really high level now. They've got a little bit different looking team because Motley has become such an offensive force."
BU coach Scott Drew on KU: "If you look at their (seven game) win streak, it's typical of coach Self's teams. They are playing great defense, taking care of the ball and very efficient on the offensive end. You know they are going to play well. You have to play very well to give yourself a chance to be successful."
This, that: KU players today will wear uniforms to honor Black History Month. It's a uniform inspired by Jayhawk uniforms of the 1950s. ... Baylor is 0-15 all-time against teams ranked No. 1 or 2 in the AP Top 25. KU is No. 2. ... A win today would give BU three straight wins against ranked teams for the first time. ... BU's 9-5 record ties its best-ever mark through 14 Big 12 contests.
Kansas vs. Baylor
Probable Starters
KANSAS (23-4, 11-3)
F — Perry Ellis (6-8, Sr.)
F — Landen Lucas (6-10, Jr.)
G — Frank Mason III (5-11, Jr.)
G — Wayne Selden Jr. (6-5, Jr.)
G — Devonté Graham (6-2, Soph.)
BAYLOR (20-7, 9-5)
F — Johnathan Motley (6-9, Soph.)
F — Taurean Prince (6-8, Sr.)
F — Rico Gathers (6-8, Sr.)
G — Lester Medford (5-10, Sr.)
G — Al Freeman (6-3, Soph.)
Tipoff: 7 p.m. today, Ferrell Center, Waco, Texas
TV: ESPN2 (WOW! Cable channels 34, 234)
Rosters
KANSAS
0 — Frank Mason III, 5-11, 185, Jr., G, Petersburg, Virginia.
1 — Wayne Selden, Jr., 6-5, 230, Jr., G, Roxbury, Massachusetts.
2 — Lagerald Vick, 6-5, 175, Fr., G, Memphis.
4 — Devonté Graham, 6-2, 175, Soph., G, Raleigh, North Carolina.
5 — Evan Manning, 6-3, 170, Sr., G, Lawrence.
10 — Sviatoslav Mykhailiuk, 6-8, 195, Soph., G, Cherkasy, Ukraine.
11 — Tyler Self, 6-2, 165, Jr., G, Lawrence.
13 — Cheick Diallo, 6-9, 220, Fr., F, Kayes, Mali, Africa.
14 — Brannen Greene, 6-7, 215, Jr., G, Juliette, Georgia.
15 — Carlton Bragg, Jr., 6-9, 220, Fr., F, Cleveland.
21 — Clay Young, 6-5, 205, Soph., F, Lansing.
22 — Dwight Coleby, 6-9, 240, Jr., F, Nassau, Bahamas.
31 — Jamari Traylor, 6-8, 220, Sr., F, Chicago.
33 — Landen Lucas, 6-10, 240, Jr., F, Portland, Oregon.
34 — Perry Ellis, 6-8, 225, Sr., F, Wichita.
42 — Hunter Mickelson, 6-10, 245, Sr., F, Jonesboro, Arkansas.
Head coach: Bill Self. Assistants: Kurtis Townsend, Norm Roberts, Jerrance Howard.
BAYLOR
0 — Jo Acuil, 7-0, 210, Jr., F, Melbourne, Australia.
1 — Wendell Mitchell, 6-3, 180, Fr., G, Rockdale, Texas.
2 — Rico Gathers, 6-8, 275, Sr., F, LaPlace, Louisiana.
3 — Jake Lindsey, 6-5, 190, Fr., G, Salt Lake City.
5 — Johnathan Motley, 6-9, 230, Soph., F, Houston.
11— Lester Medford, 5-10, 175, Sr., G, Tucson, Arizona.
13 — John Heard, 6-5, 210, Sr., F, Houston.
20 — Manu Lecomte, 5-11, 170, Jr, G, Brussels, Belgium.
21 — Taurean Prince, 6-8, 220, Sr., F, San Antonio.
22 — King McClure, 6-3, 200, Fr., G, Ovilla, Texas.
24 — Ishmail Wainright, 6-5, 230, Jr., G, Kansas City, Missouri.
25 — Al Freeman, 6-3, 200, Soph., G, Charlotte, North Carolina.
31 — Terry Maston, 6-7, 215, Soph., F, DeSoto, Texas.
33 — Austin Mills, 6-1, 175, Sr., G, Beverly Hills, California.
Head coach: Scott Drew. Assistants: Jerome Tang, Grant McCasland, Paul Mills.