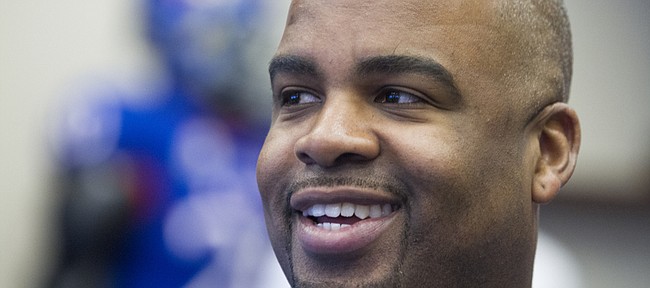 Kansas University's football program unbelievably could be in danger of losing a fifth assistant coach from David Beaty's first staff.
Already down four full-time assistants from the 2015 coaching roster (linebackers coach Kevin Kane to Northern Illinois, running-backs coach Reggie Mitchell to Arkansas, wide-receivers coach Klint Kubiak to the Denver Broncos and special-teams coordinator Gary Hyman demoted and then on to Indiana State), Beaty and the Jayhawks might have to sweat out the next few days as Oklahoma coach Bob Stoops explores the possibility of hiring KU defensive-line coach Calvin Thibodeaux for the vacancy in the Sooners' D-line meeting room.
According to a report from Jason Kersey, who covers OU for The Oklahoman, Thibodeaux will be in Norman, Okla., today and will interview for the job.
Kersey's report cited sources saying that Thibodeaux "is one of the leading candidates to join Stoops' staff."
KU will begin spring practices on March 7. The Sooners are slated to begin their spring practices March 5.
Kersey's report indicates that Thibodeaux and Mississippi State defensive-line coach David Turner are two top candidates for the job, and a hire is expected sometime this week.
The 32-year-old Thibodeaux, who joined Beaty's staff for the 2015 season after three seasons at Tulsa, makes sense for the OU opening in a lot of ways. First, he played at Oklahoma and was an All-Big 12 defensive end under Stoops. Second, he had a big role in recruiting Lawrence High defensive end Amani Bledsoe to Kansas and would have an automatic rapport with the D-end who picked OU over KU earlier this month. Beyond that, Kersey's report indicates that Turner made $350,000 at Mississippi State in 2015, and OU might prefer to go with the cheaper option in Thibodeaux, who made $166,000 during his first season at Kansas.
The belief held by those close to the KU program is that Thibodeaux is gone if Stoops offers him the job, and that would leave Beaty looking for three assistant coaches to fill out his staff.
College football veterans Jason Phillips and Todd Bradford already have been brought it to replace Kubiak and Kane, and Beaty is believed to be closing in on a running-backs coach and special-teams coordinator.