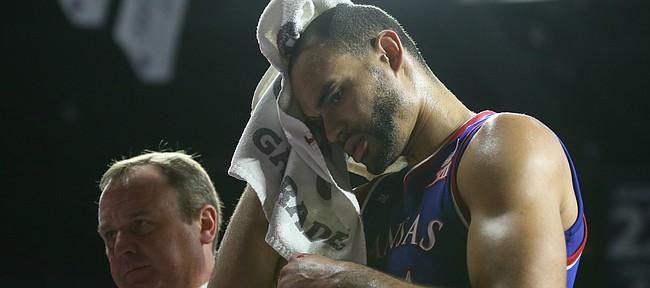 Kansas University's basketball team certainly looked like a squad worthy of winning a 12th straight Big 12 title — at the same time resembling a definite Final Four/national title contender — in building a 52-35 lead with 14:46 left in Saturday's KU-Kansas State game in Bramlage Coliseum.
"We came out the second half and almost played flawlessly. We go up 17. We're running, then after Perry got hurt, it shut down. I mean, it shut down," KU coach Bill Self said after the Jayhawks held on for a 72-63 victory.
KU led 55-41 with 12:02 left when senior Perry Ellis had a deep cut opened on the top of his head. After a team doctor sewed in 12 stitches, Ellis returned to the floor at 6:05, the Jayhawks' lead down to seven points, 60-53.
Ellis left for good at 1:12 — KU up by four — this time getting blinded by teammate Wayne Selden Jr., who inadvertently hit him in the eye, scratching it. Ellis is OK and expected to play in Tuesday's 7 p.m. contest at Baylor.
"We obviously need Perry out there, but we competed hard. The guys hung in there. We were able to piece it together," Self said.
Devonté Graham hit four key free throws in the last 30 seconds as well as a crucial step-back jumper for his only six points of the game.
"Devonté has five turnovers and an oh-fer and scored six points in the last three minutes, basically to win the game," Self said. "It was a great win. Now we need to get rested up, get Perry healthy and get ready to play another very good team."
The good news Sunday was that Ellis was cleared by doctors to practice today and play Tuesday. Baylor (20-7 overall) joins West Virginia and Oklahoma at 9-5 in the league, two full games behind the 11-3 Jayhawks (23-4 overall) with four to play.
"Perry is good to go," Self said Sunday night, noting Ellis would not have to wear protective goggles. "His head is fine. His eye is sore but getting better."
Ellis was checked out by doctors Saturday night after returning to Lawrence and again Sunday.
"Reports from the ophthalmologist was positive. It is a scratch, and it should heal up in a couple of days. We gave him today off, and he should be able to practice tomorrow. With his head, he is fine. He just has some stitches on top of it," Self said.
The Jayhawks feared they might have to play without Ellis down the stretch Saturday after he first left the court bleeding.
"We were kind of worried about Perry. We didn't know if he'd make it back in the game or not," junior guard Frank Mason III said. "We knew the next guy would have to step up and make plays for us."
One hero Saturday was Svi Mykhailiuk, who hit two threes the first half and another in the second. He had played just seven minutes total in the last three games.
"Svi was our best player in the first half. He made a couple great plays the second half. He shot one about 22 feet, but he was only 19 feet out there," Self joked of an airball from the corner. "All in all, it was a really solid win. I just wish we'd have closed it a little better.
"We did make free throws late after we shot 'em horrendously during the game," Self added. "We hit five of our last six (and seven of 10)."
For the game, KU hit 18 of 30 free throws to KSU's 18 of 22.
Now it's off to Waco for a game against the Bears, who won Saturday at Texas (78-64) and prior to that at home against Iowa State (100-91, overtime).
"We're 11-3, and we have three teams at 9-5. Obviously, if we're not successful in Waco, you've got a one-game lead, which isn't enough in this league," Self said. "We're going to play what may be the hottest team in the league right now."
Cuss words OK'd by K-State?: KSU on Saturday brought back the previously banned song "Sandstorm" in the final minutes of the game.
The song had been taken away this season because the KSU students chant "(Expletive) KU" over and over during the melody, to the chagrin of ESPN, which must abide by FCC rules and not air vulgarities during broadcasts. Observers at the game said the music was played louder than usual Saturday to try to drown out the vulgar part of the song/chant.
Last Wednesday, the K-State Collegian authored an article indicating "Sandstorm" purposely was removed by KSU administration this season with sportsmanship in mind.
"We want an environment that is intimidating for visitors to play in, but I think we have to do that without crossing the line," Scott Garrett, senior associate athletic director for external operations, told the student newspaper. "We do not think it is responsible to play that song when every time it is played the F-word is chanted in unison."
Kellis Robinett of the Wichita Eagle on Saturday tweeted "the story behind Sandstorm: Wasn't planned initially, debated among administration in second half. K-State president Kirk Schulz said go for it."
KU senior Evan Manning had a humorous tweet on the topic Saturday: "Hopefully I never have to listen to Sandstorm ever again."