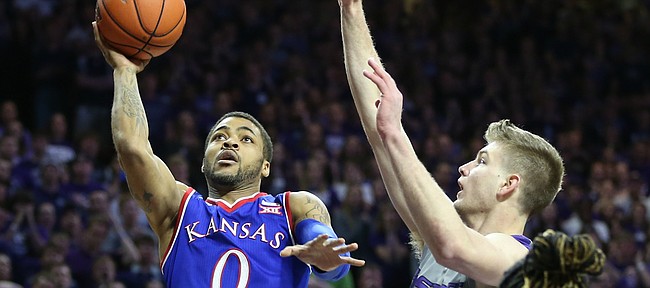 Great competitors understand the value of hiding what's ailing them. The more the opposition knows about their injuries, the better armed they are to exploit them.
Fearless Frank Mason III, Kansas University's 5-foot-11, 185-pound junior point guard from Petersburg, Va., is one tough competitor. Consequently, we might never know to what extent his sore left elbow was bothering and what else was nagging at him during an eight-game stretch during which he just wasn't the same.
His funk started Jan. 12 in Morgantown, W.Va., when he committed seven turnovers in a 74-63 loss to West Virginia. Mason didn't fully regain his zip until four weeks later, when he led the Jayhawks to a 10-point victory against the same Mountaineers in Allen Fieldhouse.
Mason had a terrific game Saturday in Manhattan, where he totaled 16 points, five assists and just one turnover in a 72-63 victory against Kansas State.
"I think I'll be better moving forward," Mason said after the game. "This game helped me out. I haven't been my best in the past games. Somehow, we've still been getting the wins, thanks to Devonté (Graham), a great point guard, and our great team. We'll use this game to help us get better."
Mason's 10 first-half points sparked Kansas to a 39-29 lead, and he came out of the locker room seemingly playing faster than everybody else on the floor. He drove hard right and threw a shot in high off the glass. Then in transition he sprinted faster than anyone could match to free himself along the left side of the court, caught a pass from Graham, took a dribble or two and threw up a lob to Wayne Selden Jr. for an easy bucket and 46 seconds into the second half had given KU a 14-point lead.
Mason definitely has a fresher look to him, and the numbers reflect that.
During the eight-game quasi-slump that started in Morgantown, Mason shot .325 from the field and .333 from three and averaged 3.3 assists and 3.1 turnovers. In the 15 games before and four games since, he has shot .451 overall and .396 from three and averaged 5.2 assists and 1.5 turnovers.
Baylor — KU's opponent Tuesday — is coming off victories against Iowa State and Texas. Quick Texas point guard Isaiah Taylor had trouble attacking the Bears' zone defense Saturday in Austin, where Baylor won, 78-64.
Mason's ability to invade the creases of the zone will go a long way toward determining the outcome. Now that the experienced Mason has the pep in his game back, he figures to be up to the task of figuring out how to invade the soft spots of Baylor's zone.