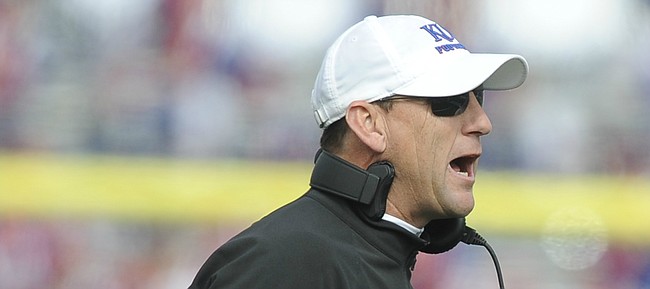 Never one to get too involved with any of the sports he oversees, Kansas University athletic director Sheahon Zenger told the Journal-World on Friday he was not worried about the recent rash of departures from second-year football coach David Beaty's staff.
In the past couple of months, four full-time assistants on Beaty's first KU staff left Lawrence for other opportunities, with three of them — running backs Reggie Mitchell to Arkansas, wide receivers coach Klint Kubiak to the Denver Broncos and special teams coordinator Gary Hyman to Indiana State — shipping out in the past week.
That trio followed linebackers coach Kevin Kane out the door, a little more than a month after the former KU player left to become the defensive coordinator at Northern Illinois.

While saying goodbye to four full-time coaches never would be construed as a good thing, Zenger said he believed the departures could open the door for Beaty to build an even stronger staff heading into Year 2.
"I told coach Beaty when I first hired him that it's been my experience at other programs that were rebuilding that so often your third year is your best staff because you've had people leave and other people come in who want to make a commitment to that program," Zenger said. "For instance, when guys like Jim Leavitt, Mark Mangino and Mike Stoops joined (K-State) coach (Bill) Snyder's staff in Year 2 or 3, that worked out pretty well for that program and for their individual careers."
Perhaps more importantly, Zenger said his mind was at ease because he believed KU was not to blame for any of the departures. As was the case when Beaty put together his staff in the first place, Zenger said the KU coach remains fully aware that the resources are in place to fill the assistant coaching positions with whomever he believes is necessary.
"I think I've made it clear in the past that we have a major commitment to football," Zenger said. "Our salary comparisons, through our Human Resource office, show that what we pay our assistant coaches and support staff for football ranks third in the Big 12 Conference."
That standing helps balance out the fact that Beaty ranks 10th among Big 12 head football coaches at $800,000 per year.
Added Zenger, when asked specifically if he thought money played a role in any of the recent coaching losses: "When necessary, we counter-offer to keep the guys we want to keep."
So far at least, the departure of four of KU's position coaches has not had a negative impact on KU's recruiting. For starters, Beaty said co-defensive coordinator/cornerbacks coach Kenny Perry, who now also wears the hat of KU recruiting coordinator, already was heavily involved in overseeing KU's recruiting efforts.
Beyond that, several members of the 2016 class and targets in the 2017 class already have had a chance to meet and get to know newly hired linebackers coach Todd Bradford and wide receivers coach Jason Phillips.
Said top-rated 2016 recruit Maciah Long, a linebacker from Houston: "At first, I didn't really know too much about coach Bradford, but after meeting him and getting to spend some time with him, I was like, 'Coach Bradford's my guy. I'm ready to go to work for that man.'"
Beaty still has two full-time assistant openings to fill and he said earlier this week that he would move quickly to hire a running backs coach and, in all likelihood, a special teams coordinator before the start of spring practices on March 7.
---
Recent stories from KU's coaching carousel
---