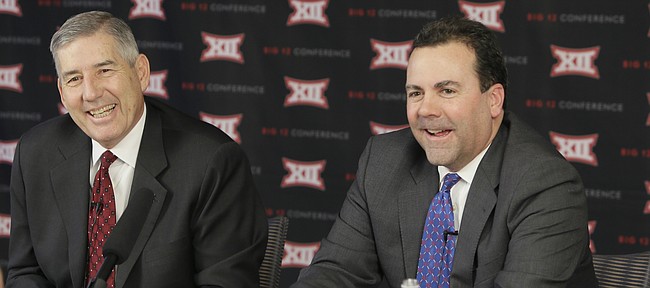 According to a CBS Sports report, Big 12 schools are starting to lag behind their SEC counterparts in payouts.
For 2014-15, full-sharing schools — those who have been in the conference the longest, such as Kansas University — received an average of $23.3 million. CBS Sports reported that number was $9.4 million less than SEC institutions received.
That gap stands out because in 2012-13, the Big 12 distributed $20.9 million, compared to the SEC's $20.8 million.
CBS Sports' Jon Solomon reports the emergence of the SEC Network and the new College Football Playoff gave the SEC its newly found financial advantage.
In 2014-15, according to the report, Texas earned approximately $15 million from its Longhorn Network, while KU received more than $6 million with its local broadcast deal. Kansas State also got about $4 million from third-tier rights.
In the SEC, schools have their own multi-media contracts and receive SEC Network money on top of that.
Oklahoma president David Boren told The Oklahoman the Big 12 this summer needs to reach decisions on expansion, a conference championship game for football and whether to start a television network comparable to what the SEC and Big Ten have.
CBS Sports reported each school in the Big 12 received about $23 million last year, except for the newest conference members, TCU and West Virginia. They will reach full membership shares in 2015-16.
— Read the full CBS Sports report: Big 12 paid out $9.4 million less to schools than SEC