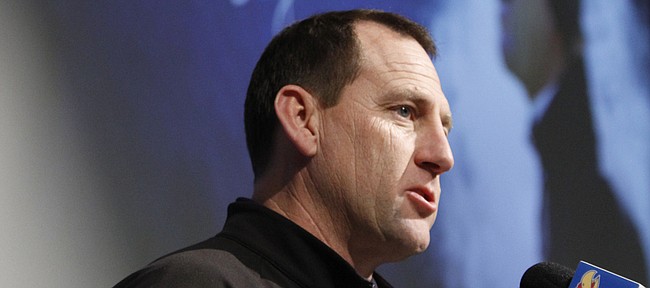 With four full-time assistants recently leaving his first coaching staff, second-year Kansas University football coach David Beaty sounded upbeat about the prospects of replacing them Wednesday afternoon before speaking to a crowd of roughly 150 KU football supporters at the Ramada Inn Topeka Convention Center.
"It's amazing, the people that have reached out to us who want to come coach at this university," Beaty said. "It's a great place, unbelievable tradition, and I think they see the vision. The list is a mile long of people who have contacted us without us even reaching out to talk to anyone, so that's encouraging."
Two of the four spots have been filled. Todd Bradford came in to replace former linebackers coach Kevin Kane, who left to become the defensive coordinator at Northern Illinois, and Jason Phillips, formerly the wide-receivers coach and co-offensive coordinator at SMU, will replace wide-receivers coach Klint Kubiak, who will join his father, Gary Kubiak, in Denver with the Broncos.
That leaves openings at the running-back position, where longtime assistant Reggie Mitchell left for a similar job at Arkansas, and special teams, where former coordinator Gary Hyman left for Indiana State after initially being reassigned within the KU program.
"Bringing Jason Phillips on was not a mistake," Beaty explained. "I kind of had a feeling that some things might happen, and I wanted to make sure we had that continuity, so to speak. He'll take over the wideouts, and these next two positions, both will be very flexible. One of them will be a running-backs coach, and then we'll take a real hard look at a special-teams coordinator."
Regardless of what positions are filled and which coaches fill them, Beaty said the staff would operate much like it did in 2015.
"You'd rather not (lose coaches)," he said. "But here's the way I look at that: If nobody's coming after your guys, you don't have the right guys. We can sit here and whine about the continuity and all that kind of stuff, but the things that we do, the core elements of our program, are not going to change. We'll just plug in the right men that will help us continue moving forward."
In addition, Beaty confirmed that co-defensive coordinator Kenny Perry also would handle the recruiting-coordinator role surrendered by Mitchell.
"Him and Reggie were basically doing that together already," Beaty said.
As for Wednesday's event in Topeka, the second in a series of Football in February receptions around the state, Beaty said he appreciated the chance to promote his program and was not there to sugarcoat anything about where the Jayhawks were heading into Year Two.
"We laid a foundation. It hurt. It wasn't comfortable," he said of last year's winless season. "But that's where the hard work lies. We've done that. We think that's behind us. And we've gotta continue to build it now.
"That's one of the messages," Beaty continued. "The other is, 'Hey, we've gotta do better for you. You deserve that.' We need your support, and we need you to grab people and bring them to the games, because that's gonna be important for our recruiting moving forward. But, hey, we've gotta earn it. We've gotta produce something better on the field for you than we have been. And, you know what, we'll do that."
For Beaty, that goes beyond improved fundamentals in practice or more points on Saturdays and starts with events like Wednesday's, a few weeks before spring practices begin and months before the start of a new season.
"I love Jayhawks," Beaty said. "And if I can get two of 'em to come out and hang out with me and let me get to know 'em a little bit better, it helps me recruit our kids by making them understand what it's like to be a part of that fabric of being Jayhawks."