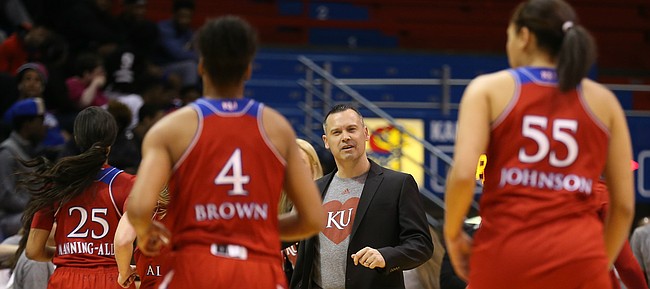 What began as a game that looked like one the Kansas University women's basketball team could get, quickly turned into a TCU runaway Wednesday night at Allen Fieldhouse.
Still looking for its first conference victory of the season, the KU women jumped out with good energy and offensive poise, only to watch this one resemble so many that came before it. KU turned ice cold, TCU heated up, and the Horned Frogs left Lawrence with an easy, 70-44 victory.
TCU coach Raegan Pebley applauded the Jayhawks' effort and offensive execution. And although first-year KU coach Brandon Schneider said he appreciated Pebley's kindness, he did not head home to share it with his family.
"Every coach has been complimentary to us after they've kicked our (butt)," Schneider said. "What are they gonna say?"
Unfortunately for the Jayhawks, who have lost 16 in a row, Schneider had plenty to say after this one, and most of it came in direct contrast to what he had said about this team all season.
Throughout this difficult first season, Schneider has praised his team's heart and emphasized how, if someone were to watch any given practice, they would not know that the Jayhawks were winless in conference play.
He offered no such silver lining Wednesday night.
"Obviously, we're not happy with how our season's gone or what our record has been," said Schneider, who did not make players available following the loss. "But tonight was the first time I was really disappointed by the way we represented ourselves."
Especially with the game being at home, Schneider said he believed his still-hungry squad would be fired up by the opportunity to face another Big 12 team with a losing record. And, for a while, it looked as if the Jayhawks believed they could compete with the Horned Frogs. But a decent start turned into a forgettable night, and the Jayhawks (5-20 overall, 0-14 Big 12) rapidly began failing to execute the game plan.
"TCU has given up over 70 points per game in Big 12 play," Schneider said. "And you gotta give 'em a chance to break down and make a mistake. That was our focus going in and we just didn't do that."
Photo Gallery
Kansas women's basketball v. TCU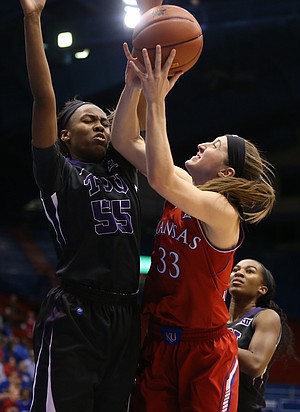 Images from Wednesday night's game between the Jayhawks and Horned Frogs at Allen Fieldhouse.
Following a buzzer-beating three-pointer from TCU's AJ Alix, KU trailed 16-12 at the end of the first quarter. By halftime, the TCU lead had grown to a dozen, but Kansas trimmed the deficit back to seven by scoring the first five points of the second half on buckets by Kylee Kopatich (8 points) and Caelynn Manning-Allen (6 points, 7 rebounds).
TCU (14-11, 6-8) responded with a 15-3 run to close the quarter and pushed its lead to as large as 34 points in the fourth quarter, where KU continued to make mistakes on offense and look sluggish on D.
Put another way, "(We) just kind of (went) off the reservation," Schneider said.
Aisia Robertson led KU's scoring effort with 11 points, but took 17 shots to get them. Lauren Aldridge added seven points and two assists, and Chayla Cheadle chipped in five points and five rebounds for the Jayhawks, who remain offensively challenged.
KU will return to Allen Fieldhouse at 2 p.m. Saturday for a match-up with Oklahoma. The game will mark KU's second-to-last home game of the regular season.