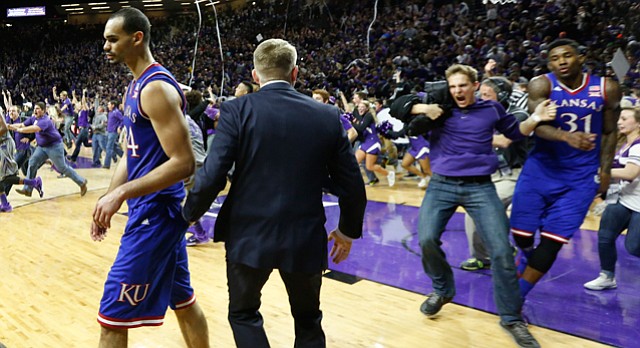 Jamari Traylor did not get nominated for the Nobel Peace Prize for his calm, cool, collected behavior after last Feb. 23's Kansas-Kansas State basketball game at Bramlage Coliseum in Manhattan.
However, the 6-foot-8 KU forward did receive lots of praise — locally and nationally — for not retaliating in any way when he was run into by a KSU student, who was cited for disorderly conduct following a wild court-storming incident after the Wildcats' 70-63 victory.
"I don't know, to be honest," Traylor said recently, asked to reflect on why he did not strike the student who charged into him. "I've gotten in enough trouble as it is. I don't need any more. I'm just trying to be cool," he added, smiling.
"I'm definitely not always mellow, but I've been working on that. I feel I've been trying to be more a leader," he added of his personality in this, his senior season. "I get into my emotions sometimes, and coach (Bill Self) calms me down and everything. I feel, for the most part, I've done a lot better being calm."
In retrospect, the court-storming incident of a year ago — sure to be in the news this week with KU headed to K-State for a 5 p.m. tip Saturday — could have been a lot worse had Traylor decided to go after any students wearing purple who invaded his personal space.
"I was surprised people cared so much about me getting bumped. I take on average far worse in the game than that all the time," Traylor said.
That court-storming incident — which also included KSU coach Bruce Weber trying to keep fans from squeezing Self into the scorer's table — led to a new Big 12 rule that allows Commissioner Bob Bowlsby to penalize schools if he deems a court-storming incident worthy of sanctions.
He did not take action earlier this season when Des Moines Register reporter Randy Peterson broke his leg in a court-storming incident at Iowa State. Fans stormed the court Wednesday in Lubbock, Texas, after Texas Tech's victory over Oklahoma.
"To be candid, when you are getting your butt beat, and the game's over, and initially you walk to shake hands, you may think something is going to happen, but you don't imagine the players being in harm's way or whatnot," Self said recently when asked about court storming in general. KU has had the court stormed after losses at West Virginia and Oklahoma State this season. Iowa State fans did not storm after a Cyclone victory.
"We do what we always do, shake hands and congratulate your opponent," Self said. "Then the reality is, all it takes is just one guy to chicken wing a player or do something, and potentially you have a melee on your hands. My personal opinion, and we've been involved in a ton of them ... if they are handled right, and there's good security, and they do it in the middle of the court, I always thought that was OK. I don't like when the students can storm the areas where the players have to be.
"In the Iowa State deal (storm versus Iowa this year), it looked innocent to me. It was in the middle of the court. Players didn't seem to be in harm's way, still a reporter breaks his leg. That's twice in Ames. I know an official, Darron George, broke his wrist when we played up there a few years ago. I know because I went to the locker room with him. We've sent up enough warning shots. It's like, 'OK, we have to handle this because the next one could be a really bad one.' Nobody needs that or wants that.
"The simple solution," Self went on, "would be don't do it, but if you are going to allow it, you have to staff it and pay for it with more security in order to make sure none of this could happen. If you are going to make the decision to allow it, then staff it accordingly to make sure there could be no injuries. If you are not willing to pay the extra money to police it, then don't allow it at all."
Self is all for fans celebrating victories, just in a safe way.
"I've said all along I'm fine with it. Just keep it away from the scorer's table where teams are exiting and stuff like this," Self said. "I understand in kids' minds ... heck, we tore down the goalposts here (in KU's Memorial Stadium) after the Royals won the World Series. I know kids will do whatever. Certainly it adds to the energy and excitement of a big win. We've had enough warnings that something bad could occur ... we've had opposing fans put their hands on opposing players (Traylor). We've had two broken limbs (Peterson and George), and all occurred within our league. I'm sure our commissioner and ADs are very aware. I hope it can be corrected. I'm not saying totally eliminated, but if it can't be corrected it has to be eliminated."
KU-Tech in morning: Game time has been set for 11 a.m. for the KU-Texas Tech game Feb. 27 in Allen Fieldhouse. It will be shown live on ESPN. No time has yet been set for the KU-Iowa State game on March 5.
Bahe has surgery: Former KU/Creighton guard Nick Bahe, who is host of "Game Time" on 1620 radio in Omaha, Neb., announced Tuesday he will be off the air at least two weeks because of a tumor in his thymus gland. Surgery was Wednesday, according to omaha.com. Doctors removed the gland and will perform tests to reveal whether the tumor is cancerous.
Bahe, 31, is also color analyst for Creighton and Big East basketball.
"It's been probably the most challenging stretch of months of my entire life," Bahe said on his radio show as reported by omaha.com. He has been battling various symptoms this winter.
"You hear the word 'cancer,' and it shakes you pretty good. I'd be lying if I said I wasn't scared, because I am. But here's the thing: The only thing you have control over is your state of mind," Bahe said.
"I could choose to tap into the fear and scary thoughts in my mind. I can make that choice. But I've tried really hard, and I'm continuing to try really hard to tap into the positive, optimistic part of my mind."