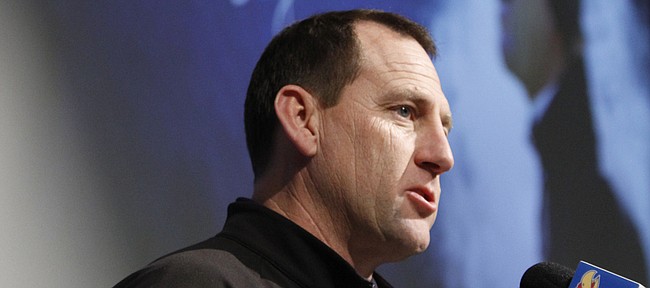 Sheahon Zenger hired David Beaty in part because he is well-connected in Texas, where he won a high school state championship as a head coach in the Dallas area, worked at Rice and Texas A & M as an assistant and brought with him a reputation as a strong recruiter.
So, naturally, Beaty cleaned up on signing day, bringing in A & M-caliber athletes, right? Wrong. It doesn't work that way. In college football, the school that finishes last picks last for recruits after the winning programs fill their spots.
Just two paths to a slow, steady climb up the basement steps exist. The first involves evaluating well when trying to project which high school athletes bypassed by the Texas titans have the potential to develop into Big 12-caliber players.
Picking the right football prospects/projects requires knowing which high school coaches tend to oversell their players, which ones tell the truth, warts and all. It requires looking at the physical traits — body shape, limb length, agility, flexibility, raw strength, speed, quickness — and making an educated guess as to a player's ceiling in each area. The same projection is required pertaining to a teenager's football intelligence, emotional maturity and mental and physical toughness.
The second path involves the staff developing athletes in practice on a daily basis. On that front, this staff appeared up to the task because practices moved along at a crisp pace and were packed with consistent instruction delivered at in-your-face distance, but not in a way as to disgrace.
That Beaty's second recruiting class didn't crack the top 90 comes as no surprise. For one thing, by taking transfers that counted against the Class of 2016, 17 scholarships, not 25, were available. Plus, opposing coaches had at their disposal negative recruiting grist galore. An 0-12 record doesn't excite anybody. And then there is the perception that Kansas is a basketball school, a tough rap to beat when every one of the other football coaches in the Big 12 earns more than twice the $800,000 salary Kansas pays Beaty. Iowa State's Matt Campbell will earn $2 million in the first season of a six-year deal.
The KU Class of 2016 includes just one Kansas high school athlete, Free State High's Bryce Torneden, who projects as a safety. That doesn't make Beaty a hypocrite for saying the rebuilding must start at home and build outward. It just demonstrates how far ahead Kansas State has grown, based on longer-lasting relationships and more success stories involving unheralded prospects developing into all-conference players. The considerable time the Kansas staff devoted to recruiting the state will pay off, little by little, eventually.
Beaty took necessary long-range steps with this class, the most significant when he broke the heavy reliance on junior-college players. Two jucos (defensive tackles DeeIsaac Davis and Isi Holani) with two remaining years of eligibility and one (cornerback Stephan Robinson) with three years left were the only non-high school recruits, and all three will appear on the two-deep depth chart.
After years of recruiting junior-college offensive linemen and living to regret it, Kansas finally loaded up on high school blockers, by far the most significant development of this class. Four high school blockers received scholarships.
Even the staff can't accurately predict which five high school recruits from the Class of 2016 will have the best careers at Kansas, but guessing is such an enjoyable exercise, so why not give it a try.
Here's mine:
1 — Antoine Frazier, 6-5, 250, OT, Huffman, Texas: Beaty said of Frazier's mother, "We almost recruited her. Bigger arms than most of our players." Not only that, for such a big man, her son can really run.
"He stayed with us," Beaty said of Frazier. "Just like a lot of these people in this class, they stayed with us even though at the very end, Baylor, a bunch of other teams around the state were coming after this guy." As was the case with former Kansas All-American left tackle Anthony Collins, Frazier was a basketball standout before he became serious about football.
2 — Maciah Long, 6-2, 230, LB, Houston: At various stages of his recruitment he reportedly heard from schools such as Ohio State, Missouri and UCLA. He already has the build of a Big 12 linebacker and showed great leadership instincts at quarterback in high school. He attended the same high school as Dorance Armstrong, who showed so much promise during his freshman season.
3 — Kyle Mayberry, 5-11, 163, CB, Tulsa: Confident and fast enough to compensate for lack of size. Cornerbacks coach Kenny Perry did a great job of recruiting him and can't wait to coach him up.
4 — Evan Fairs, 6-3, 182, WR, Richmond, Texas: Kansas hitting the Houston area so hard can only be a good thing. Fairs decommitted from Maryland and disappointed Illinois to light up the scoreboard for the Jayhawks.
5 — Isiah Bean, 6-4, 210, DE, Houston: A quarterback as a junior, he moved to defensive end his senior season and has a highlight video that makes it look as if he was born to play the position. He can really move and once he packs on the pounds could join Armstrong as a quick edge rusher.