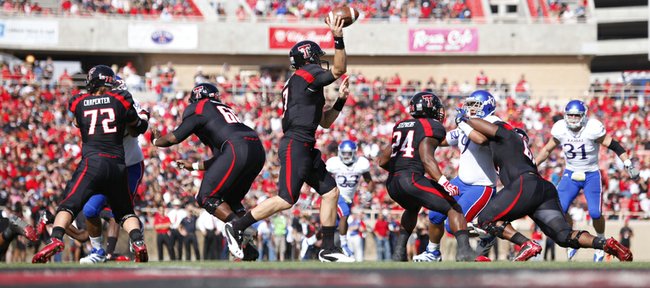 The Big 12 Conference on Friday morning announced the move of two conference football games during the upcoming season to accommodate requests from the Big 12's television partners ESPN and FOX.
One of the moves will affect the Kansas University football program.
Originally slated for Saturday, Oct. 1, KU's Big 12 opener, at Texas Tech, will now be played two days earlier on Thursday night in Lubbock, Texas.
The Jayhawks' game with the Red Raiders will follow KU's first bye week, so the earlier-than-expected kickoff should not have a negative impact on KU's preparation for the game.
KU will close out the non-conference portion of its schedule at Memphis on Saturday, Sept. 17 and won't play again until Sept. 29 at Texas Tech.
Tech will have the same advantage. The Red Raiders close out their non-con schedule at home against Louisiana Tech and won't play again until Kansas comes to AT&T; Stadium for the Thursday night clash.
A kickoff time and television designation will be announced at a later date.
The Thursday night game will mark the first time the Jayhawks have played on a Thursday since they hosted Kansas State on Thursday, Oct. 14, 2010.
KU, under second-year head coach David Beaty, will open the 2016 season Saturday, Sept. 3 at home against Rhode Island.