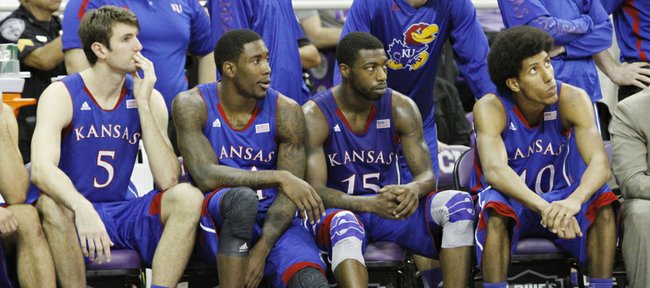 Fort Worth, Texas — Jamari Traylor remembers the fateful day Kansas University's basketball team temporarily forgot how to put the ball in the basket.
Back on Feb. 6, 2013, during the 6-foot-8 forward's freshman season, the Jayhawks managed to score a mere two points the first 12 minutes, six points the initial 16 minutes and 13 the (entire) first half of a 62-55 loss to a TCU team that entered not only as an 18-point underdog, but 0-8 in the Big 12 and 9-12 overall.
"I was thinking, 'Oh, man. We are in a hole right now,''' senior forward Traylor said of his thoughts with KU down, 22-13, at halftime in the Horned Frogs' Daniel-Meyer Coliseum.
"At the time, I still thought we were going to win the game. I didn't think we were going to lose, but we did. That was a bad point in time for us. We had lost two in a row (actually the previous game to Oklahoma State) or three in a row, something crazy. We had to turn it around, and we did that year. We won it that year," Traylor added of the league title.
An 18-4, 6-3 KU team today returns to the same building — now referred to as 8,500-seat Schollmaier Arena — to face a TCU team (10-12, 1-8) that, as it did in February of 2013, resides in the cellar of the Big 12 Conference.
This time, the Jayhawks, who beat TCU, 70-63, on Jan. 16 in Allen Fieldhouse, say they are taking nothing for granted entering today's 11 a.m. tipoff.
"We haven't been good on the road this year (1-3 in league). We've got to play better on the road than we have been," Traylor said. "I feel like going there we've got to be more focused in order to get a win."
A 5-0 home record is what has kept the Jayhawks in contention for a 12th-straight Big 12 title.
"We talk about it all the time. We've got to win games on the road," noted sophomore guard Devonté Graham. "It's huge in the league, and we haven't done it yet (victory at Texas Tech with losses at West Virginia, Oklahoma State and Iowa State). Coming up on the road we have to be more focused."
The Jayhawks, by the way, are 7-0 versus TCU since that unforgettable game in 2013. KU followed that contest with wins over the Frogs by 26, 22 and 30 points. The last four games in the series have been much closer, KU winning by seven, three, nine and five points.
"For whatever reason, we've played well at times against TCU, but not consistently well, and they've done some things to kind of mess with us defensively," KU coach Bill Self said.
The Horned Frogs snapped a five-game losing streak by beating Tennessee, 75-63, last Saturday in the Big 12/SEC Challenge in Fort Worth. Malique Trent scored 15 points, while Chris Washburn and Brandon Parrish each had 14 points. Washburn had a career-high five assists.
"It had a flow because we were making a lot of shots we had been missing," TCU coach Trent Johnson told the Fort Worth Star-Telegram. "That was one of the first times in a long time where the ball went down for us, so that helps our assists."
On Tuesday, TCU was pounded by Oklahoma, 95-72, in its return to league action in Norman.
In KU's seven-point win over TCU on Jan. 16, Wayne Selden Jr. led the way with 11 points.
Perry Ellis, Frank Mason III, Graham and Carlton Bragg Jr. each had 10 points.
Ellis had nine rebounds as KU outboarded TCU, 44-37. TCU's Michael Williams led all scorers with 13 points, while Vlad Brodziansky grabbed 12 rebounds.
"We've got to go down there and be physical with those guys. They are a physical team. We've got to go out there and compete hard and go out there and try to get a win," Traylor said.
More on Greene: Self reiterated Friday that junior Brannen Greene would not be suspended for flushing a meaningless dunk before the final buzzer sounded in Wednesday's 77-59 home win over Kansas State.
"Yes, he'll be in uniform. Well, it's only noon. We haven't practiced yet. That's a joke. He'll be in uniform tomorrow, obviously," Self said.
Self was criticized by radio personality Colin Cowherd on Thursday for calling out Greene publicly after the game.
"I am an emotional guy. I was so upset after the game because that (dunking instead of running out clock in a rout) goes against everything I believe in and everything this university believes in from a sportsmanship-type topic. That just doesn't happen," Self said. "We talk about how we don't rush the court. We talk about how much pride we have in the inventor of the game was our first coach and how much history is here and also spawned off the University of Kansas.
"We win the national championship, and we don't even celebrate but for a brief moment because they (Jayhawks) had too much respect for the situation and got back in the handshake line. Those are things we talk about if not every day, weekly or monthly. That's the fabric of how we've done things. To have somebody totally go against the grain in that, it certainly didn't sit well with me or (Greene's) teammates. It's over. I apologized because that's not the way we want to conduct ourselves. It's also a youngster that didn't make a very good decision. I made a ton of 'em (bad decisions) in my time at the inappropriate time. It's forgotten, but I don't think we'll have to address it again," Self added.
Mickelson update: Self said Hunter Mickelson (high ankle sprain) might be available for duty today.
"I don't know if we'll get him in just because he won't be 100 percent, but he is definitely out there (practicing this week)," Self said.
This, that: TCU has had some adversity again this season. Washburn missed the first 11 games due to a broken finger, Trent three games because of a team rules violation and Dalton Dry several weeks because of an illness. ... Johnson is 48-70 in his fourth season at TCU and 274-255 in his 17th season overall as a coach. TCU is 8-5 in home games this season, including 4-3 in Schollmaier Arena. The Horned Frogs average 68.7 points and 35.6 rebounds per game. TCU shoots 41.5 percent from the field, makes 5.4 3-pointers per game and averages 12.4 assists, 6.1 steals and 3.5 blocked shots per game. Sophomore G Malique Trent leads TCU in scoring at 11.5 points per game. Sophomore F Vladimir Brodziansky is second on the team with 11.0 scoring and 5.0 rebound averages. Sophomore G Chauncey Collins leads TCU in league games with a 12.1 scoring average. Overall, Collins scores 10.4 points and his 2.03-pointers made are fifth in the Big 12, while his 40.2 three-point field goal percentage is seventh in the conference.