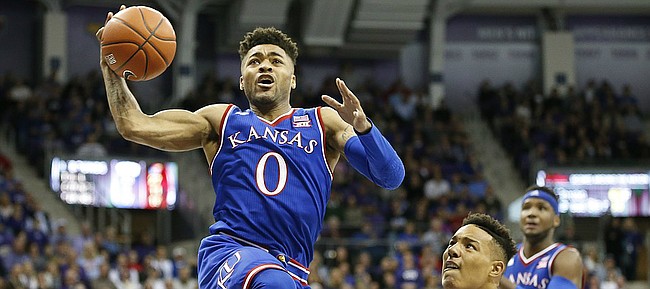 Fort Worth, Texas — Because he plays with such tenacity and never shies away from attacking the rim, it may have been hard to spot.
But Kansas senior Frank Mason III flipped a switch a few minutes into Friday's 86-80 victory over TCU that may have saved the Jayhawks.
After watching his team miss eight of its first nine shots inside TCU's jam-packed Schollmaier Arena, Mason stopped reacting and started creating, often lowering his head near mid-court and driving to the rim no matter who or what stood in his way.
It didn't always result in a basket. At least not right away. But it did change the way the Jayhawks played, transforming the nation's third-ranked team from a flat, passive, holiday grinch into one of those friends that everyone has on New Year's Eve — eager, excited and nearly impossible to stop.
"It was big," said KU senior Landen Lucas of Mason's impact early. "He's been that guy for us the last couple years. He gives us kind of someone to look to. To have somebody who can just get a good shot. For him, some of those shots that might look tough are actually pretty good and that's big for us."
Photo Gallery
Kansas basketball v. TCU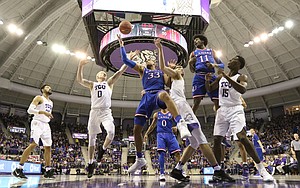 View a gallery of images from Friday night's game between the Jayhawks and Horned Frogs in Fort Worth, Texas.
For the game, Mason finished — yet again — with a team-high 22 points, seven assists and two steals in 35 minutes.
As much as that pleased KU coach Bill Self, the Jayhawks' leader was far more concerned about his team's poor defensive play — even singling out poor efforts by Mason and junior Devonte' Graham — than he was impressed by its offensive production.
TCU shot 44 percent for the game, 39 percent from 3-point range, and featured a lineup full of players who got to the rim whenever they wanted throughout most of the night.
"We're kidding ourselves if we think we can play that little and get by," Self said. "We got lucky tonight.... The thing we've always hung our hat on, we're just not very good at yet. And we've got to improve on that."
As much as the Jayhawks left room to improve on defense, it did not really matter who was asked to deliver offensively in this one once the Jayhawks (12-1 overall, 1-0 Big 12) got going. And nearly every Jayhawk did at one point or another.
Kansas led 48-44 at the half and kept that margin for most of the second half. After occasionally pushing the lead to six or seven and seeing TCU trim it back to three or four, it seemed as if a different Jayhawk played the role of peace keeper each time.
First was Lucas, whose monster night of 15 points and a career-high 17 rebounds, included a huge rebound of his own miss with just under six minutes to play that pushed the KU lead from 69-66 to 71-66.
A few minutes later, Carlton Bragg Jr., who played big on the boards but still looked off offensively, scored one of his two buckets on a strong left-handed finish to push KU's lead from two possessions (78-72) to three with 3:23 to play.
Even at that, TCU never quit. After a couple of careless Kansas possessions, the Horned Frogs trimmed to the KU lead to 80-76 with just over 2:00 to play. But there, again, was another Jayhawk to stem the tide. This time it was Graham, whose driving bucket with the shot clock winding down kissed off the glass and in just as he hit the deck.
"We definitely need that moving forward, different guys stepping up," Mason said. "That'll be great for our team."
Appropriately, Mason delivered the final blow, floating a soft runner toward the rim with 1:23 to play that pushed the Kansas lead back to eight.
Perhaps most impressive about this Kansas victory — its 26th consecutive win in a conference opener and ninth straight win over TCU — was the fact that the Jayhawks did nearly all of it without the services of their second-leading scorer.
Kansas freshman Josh Jackson struggled in the early going, turning it over in transition and misfiring on his first three shots, with none really even coming close despite Jackson attacking the rim as he has done so often early in games this season.
Jackson played just eight minutes in the first half and saw his frustrations carry over into the second half. After missing his first couple of shots after the break, Jackson was whistled for his third foul on an over-the-back call with 18:07 to play.
Self and Jackson erupted with disagreement and the KU freshman compounded the mistake by getting his fourth foul via technical.
Jackson played just 12 minutes and scored four points on 2-of-8 shooting.
It wasn't just Jackson who struggled in the early going. The Jayhawks did not score until the 16:44 mark and trailed by 10 seven minutes into the game.
TCU, meanwhile, was red-hot in the early going, hitting eight of its first 14 shots, including 4-of-6 from 3-point range to build that double-digit lead.
The Jayhawks tied the game almost as quickly as the Horned Frogs (11-2) built the 10-point lead, ripping off a stretch of eight consecutive makes, the last coming on a sweet, step-back 3-pointer by Sviatoslav Mykhailiuk, to give Kansas its first lead of the game (29-28) with 7:24 to play in the first half.
"We knew we had to turn something around," Lucas said. "I think we got some good momentum and we felt the momentum switch back to us and we knew that we were back in it and we just had to go from there."
After Mykhailiuk's three, the Jayhawks never trailed again on their way to a hard-fought, road win to open their chase toward a 13th consecutive Big 12 regular season title.
"We can complain that we didn't play very well," Self said. "But there's a reason why we didn't. I think TCU's good. They were quicker than us, played smarter than us and we made enough shots where our mistakes didn't cost us."
Kansas returns to the floor Tuesday, when Kansas State comes to Allen Fieldhouse for the first of two Sunflower State clashes this season. Tip-off is set for 8 p.m.
— See what people were saying about the game during KUsports.com's live coverage.
---
More news and notes from Kansas vs. TCU
---