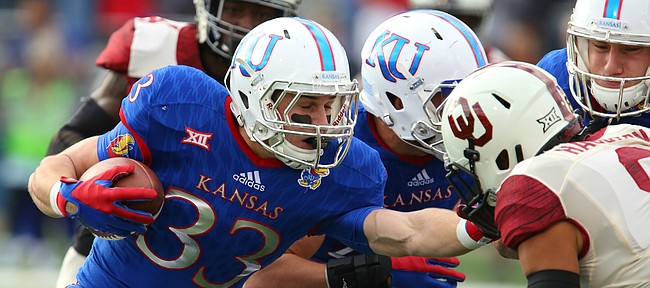 Amid his ongoing efforts to rebuild the Kansas football program, second-year coach David Beaty often cites the significance of special teams success in speeding up a turnaround.
At meetings and practices, the first words out of the KU coaches' mouths have to do with special teams and the urgency the players must have in the so-called hidden part of the game.
Before Monday's fifth preseason practice (the first in full pads), Beaty felt good about the state of KU's specialists, and gave new assistant coach Joe DeForest credit for making that possible.
A former assistant at both Oklahoma State and West Virginia, DeForest has a history of Big 12 success that his new boss loves, and it's rare for Beaty to speak with media members without singing the praises of KU's special teams coordinator.
"The thing I really love about watching him is how well he interacts with those specialists, the amount of work and training he's put into that," Beaty said this past weekend. "No wonder those guys have been really good. He's had good kickers everywhere he's been. His place kickers have been good. His punters have been good. That doesn't just accidentally happen. That guy does a nice job, a nice job. His organization is top-notch. He's on top of all the situations."
When KU opened Monday's practice with its field-goal unit, both senior Matthew Wyman and junior transfer Gabriel Rui took reps kicking the ball through the uprights.
While Wyman handled punting duties, as well, last year, the practices ahead will determine whether one of the newcomers — freshman Kyle Thompson or junior Cole Moos — will take over.
"We have a new kid here, the Thompson kid, that can hit it now," Beaty said. "I mean, he can hit it. There's a few that can hit it. I don't want to anoint any of them yet. We've got some great competition there. Most of them are new faces."
As far as returners go, KU's head coach said receiver LaQuvionte Gonzalez, who played for Beaty at Texas A&M; before moving on to Lawrence, will answer a lot of questions — both on kickoffs and punts. Beaty also identified senior safety Fish Smithson and sophomore receiver Steven Sims Jr. as possible punt returners, and noted sophomore running back Ryan Schadler, a surprise bright spot during KU's 0-12 2015, should again figure into kickoff returns.
"But he's gonna be challenged now," Beaty said of Schadler, the former Wichita State sprinter who scored a 91-yard touchdown against South Dakota State and led Kansas on the season with 33 returns, averaging 22.7 yards, "because there's some talented guys back there."
Schadler recalls Hesston tragedy
Schadler, who twice earned all-state honors as a running back at Hesston, on Monday recalled the horror of learning this past February of a mass shooting that left four people dead in his hometown.
"Immediately I'm thinking about the high school," said Schadler, who was in Lawrence going through offseason football work at the time, "because my mom is the high school counselor there. A lot of close people there. So I sprinted aside worried, looked it up and saw it. That Excel plant is right next to the high school. It was bad. It affected the community greatly, but they are definitely a strong community."
Schadler said both of his parents, Melvin and Donna, were in Hesston at the time and shared with him accounts of the bizarre scene, which included emergency vehicles swarming the small town's streets.
"It was a tough deal but it's something that you just have to move on with," Schadler said. "Probably going to be stronger because of it."
Roster updates
Former Alabama wide receiver Daylon Charlot now appears on KU's official roster. The 6-foot transfer, who will have to sit out this season, participated at practice Monday.
Stephan Robinson, a junior-college transfer originally expected to play for the Jayhawks this season, is no longer with the program. A receiver and defensive back at Northeastern Oklahoma A&M;, Robinson projected as a cornerback for Kansas.
Mundine joins Buffalo
Former KU tight end Jimmay Mundine signed Sunday with the Buffalo Bills. Undrafted in 2015, Mundine went to training camp with New England a year ago. He caught 45 passes for 584 yards in 2014, his final season at Kansas.