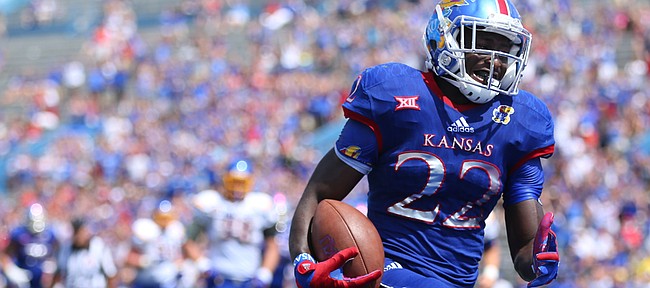 Kansas football coach David Beaty looks up in the sky on a cloudy day and expresses gratitude for the pockets of sun. Beaty never dreamed he would earn $800,000 a year to coach football, so he views that as a reason for gratitude rather than focusing on the fact that, until Baylor fired Art Briles, the KU coach was making less than half the salary of the ninth-highest paid coach in the 10-team Big 12.
So every time Beaty talks, keep in mind he views things sunny-side up and put his words through the proper filter.
That's part of why it was so refreshing to hear Beaty's candid response to the question of whether his football team is at a "Big 12 competitive level."
The second-year head coach's credibility hung in the air until he responded.
"We're not there yet, but we're a lot closer than we were," Beaty said.
The first half of that response lends so much credibility to the second half. Other than more deeply alienating a fan base that has stayed away in droves in recent years, saying the Jayhawks were Big 12-ready would have served no purpose.
Kansas football fans have had so much smoke blown in their faces in the form of Dayne Crist and Jake Heaps, Marquel Combs and Chris Martin, etc., they have morphed into human smoke detectors whose batteries never run low (beeping annoyingly until a ladder is found and scaled and electrocution somehow is avoided.)
Beaty's in the second year of a no-guarantees rebuilding job and faces another brutal schedule. Most of the apparent strides Beaty's staff have made won't pay off yet. Football recruiting, more than any other sport, delays gratification. That doesn't mean the progress isn't authentic.
Strength and conditioning coach Je'Ney Jackson did a nice job of illustrating how Beaty and his staff have upgraded the program by recruiting faster skill players and stronger linemen.
Jackson returned in January 2015 to the program where he first worked for Mark Mangino as the man charged with increasing team speed. Jackson said that in his first spring back, just three remaining players were clocked at 4.59 or better in a 40-yard sprint. This summer, Jackson said, 42 players met or exceeded that standard and nine were freshmen. (The times are tracked with hand-held stop watches, so they tend to be a little on the fast side.) Keep in mind that spring football squads are smaller because most freshmen don't arrive until June and the seniors aren't part of the workouts. Still, that's a remarkable upgrade and Jackson is quick to point out the major reason for it.
"That right there, that's how you change the speed of your team," Jackson said, pointing to the nine freshmen hitting the mark. "When you have guys coming in who are fast, I can make them faster, but when they are already coming in fast, man that's a big help to me."
Jackson also quantified the strides made up front, where Kansas consistently was blown up during an 0-12 2015 season.
"Our strength did not match our size," Jackson said. "We had some really big guys who were really weak. We had several offensive linemen who couldn't bench 315. And they weighed 300-plus pounds themselves, and that's an issue. That's a big issue there. When that defensive lineman is more powerful than you, it's hard to drop that anchor and stop his rush. So we had to make sure we attacked it and just had a total strength gain with our team."
Jackson stayed in lock-step with Beaty in talking about the strides made and the huge gap that still needs to be closed.
"One, all of our returning offensive linemen except for one is 300-plus pounds, so that in itself helps," Jackson said, supplying evidence of progress. "Two, they all bench-press over 315 pounds. That's still not nearly where we want to be, but it's so much further than where we were. We've also got guys that coaches are recruiting that are coming in benching over 300 pounds. That in itself helps so much in doing what I do."
Miracles aren't wasted on college football teams and nobody's claiming one is about to be unveiled in Lawrence.
"We're not there. We're not there in any area yet," Beaty said. "We're a work in progress and we'll continue to be that through our entire time here. But we are still working the plan and that plan is to continue to work every day to get bigger, stronger, faster. Yes, I'm excited because we're stronger and faster, but we're not where we need to be yet totally as a team."
As long as Kansas gets a little closer to respectability every year — no easy challenge — empty seats eventually will start to fill. Just not yet.