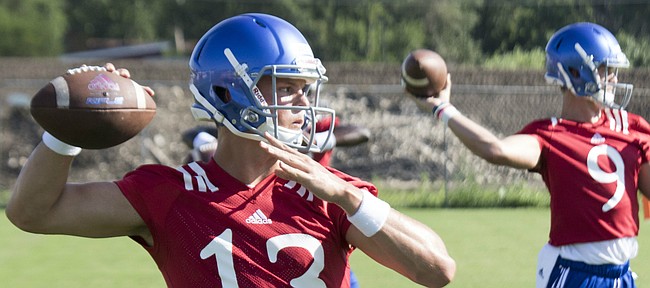 The ongoing preseason camp battle for the job of starting quarterback at Kansas might not be over, but head coach David Beaty indicated Monday an early leader has emerged.
A couple days after pointing to sophomore Ryan Willis as the first to really stand out at the position, Beaty said the Overland Park native who started the final eight games for KU a year ago didn't show any signs of a letdown over the weekend.
"The last two practices, Ryan has continued to probably be the one who just has a slight edge in practice," Beaty said Monday morning, prior to KU's first practice in full pads. "He's not the starting quarterback yet. We're not anointing that. He just has had the better days, production wise."
As usual, Beaty also highlighted characteristics of the other quarterbacks, too, this time touting red-shirt freshman Carter Stanley's development, and the dual-threat abilities of red-shirt junior Montell Cozart and true freshman Tyriek Starks.
Once again, the head coach, who also coaches the QBs, stated his case for having patience on the matter of naming a starter.
"I think to be fair to 'em, to be honest with you, is to make the right decision," Beaty said when asked if he had a timetable. "So we're gonna take as much time as we need to do that and make sure we've seen the body of work we need."
Willis missed out on taking live snaps during spring football because of a broken right wrist.
"Today's gonna be a big day for us, 'cause we're gonna get after it a little bit," Beaty said before Monday's afternoon session. "We're gonna go live in the second half of practice and there's gonna be blitzes coming at ya. A lot of people look good in underwear when they're out there running around and nobody can hit you, so this'll be a good day for us to make some progress as far as who's doing what."