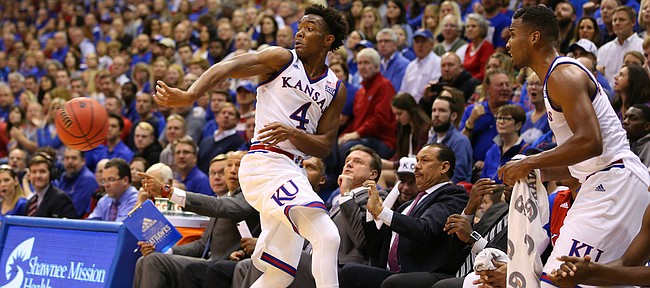 On a night when every other player in Kansas University's 10-man rotation made at least half of his shot attempts in a 109-72, all-offense, all-the-time rout, sophomore Devonté Graham didn't mind being the odd Jayhawk out.
The 6-foot-2 point guard from Raleigh, North Carolina, spent too much time setting up those other hot hands in his first carer start to spend any additional moments regretting his 3-for-11 shooting against overmatched Northern Colorado. For Graham, Friday night at Allen Fieldhouse turned into a lead guard's dream, with teammates such as Brannen Greene (5-for-5 from three-point range) seemingly scoring at will.
Photo Gallery
Kansas basketball v. Northern Colorado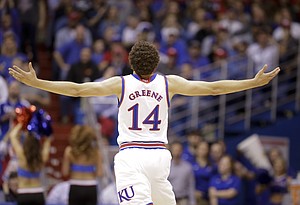 Images from Friday night's game between the Jayhawks and Bears at Allen Fieldhouse
"It's good. I get to rack up assists," Graham said after dishing eight in 24 minutes. "That's kind of what I love to do. You know, I can score, but ultimately I like gettin' people the ball."
Graham still put up some points, too. The charismatic floor general, who shares those duties with junior and fellow starter Frank Mason III, chipped in 13 and knocked down the first two three-pointers for No. 4-ranked Jayhawks, who went on to cash in 15 of 26 from long distance. Graham's free throw shooting didn't suffer either, as he knocked down five of six.
Perpetually smiling on and off the court, Graham had to grin after the game, even when contemplating how he cooled off after a 10-point first half.
Podcast episode
Kansas basketball coach Bill Self answers questions from the media following KU's season-opening, 109-72 victory over Northern Colorado at Allen Fieldhouse.
"I missed shots. I took a couple bad shots," Graham admitted. "Early on I had hit a couple and then was feeling myself a little bit too much."
His coach, Bill Self, generally doesn't mind when the pass-first point guard looks to put the ball in the hoop himself. When Mason (11 points, nine assists) picked up his second foul midway through the first half, KU needed Graham to contribute as much as possible.
Podcast episode
Kansas basketball players Brannen Greene, Devonté Graham and Perry Ellis describe the enjoyment the Jayhawks had in scoring 109 points in their season opener against Northern Colorado.
"Compared to everyone else he didn't shoot the ball well at all. He shot it poorly," Self said of Graham, whom he said has been one of KU's best players since the middle of February, last season. "But I thought his floor game was excellent."
Along with running the offense and sharing ball-handling duties, Graham swiped three steals and snagged three rebounds.
Self said Graham might not be as effective a driver as Mason, whom he again compared to former star guard Sherron Collins. The coach thinks both Mason and Collins could make the ball stick in their hands too long on offense and still turn it into a good possession because of their craftiness off the bounce.
"Devonté's not like that. Devonté's more of a ball-mover," Self said, "but he can drive a bad close-out and things like that as well as anybody."
And when Graham gets to the paint, his teammates often benefit — whether that's in the form of a Wayne Selden Jr. layup, a Jamari Traylor or Hunter Mickelson bucket in the paint, a Svi Mykhailiuk three-pointer or a Perry Ellis jam (all of which happened in the first half of KU's season-opening blowout.)
Ellis said once Graham goes into attack mode, the sophomore sees the floor well and the offense flows.
"I feel like he has a great feel for the game," Ellis said, "and just having him in there, especially with Frank, it's just good ball movement, things of that sort."
Self knows that better than anyone, and doesn't think Graham should shy away from going all Frank Mason, and helping to carry the scoring load.
"And then the other thing is he's a pretty good shooter," Self said of Graham, who made 17 of 40 three-pointers as a freshman sub. "He didn't shoot it well tonight, but I feel really confident when he shoots the ball."
— See what people were saying about the game during KUsports.com's live coverage.
---
More news and notes from Kansas vs. Northern Colorado
---