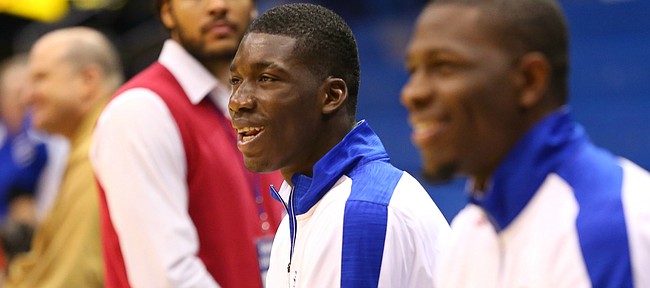 Cheick Diallo sat on Kansas University's basketball bench, decked in a white warmup top and blue sweat pants rather than his official Jayhawk jersey and shorts Friday night in Allen Fieldhouse.
The 6-foot-9 freshman forward from Mali was forced to the sidelines for what would have been his collegiate opener against Northern Colorado, because of the fact he has yet to be declared eligible for participation in games by the NCAA Eligibility Center.
"You have to put this in perspective. You've got a young person who spent a good portion of his life working toward this day, and for reasons beyond his control, he is being deprived of this day," said Don Jackson, attorney for Diallo's mentor, Tidiane Drame.
Photo Gallery
Kansas basketball v. Northern Colorado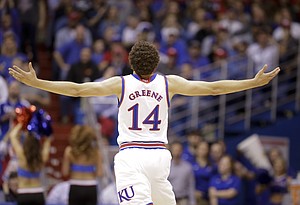 Images from Friday night's game between the Jayhawks and Bears at Allen Fieldhouse
Jackson is fighting for Diallo's eligibility in this matter with the NCAA.
"This is profoundly unfair, and I tell you I am disappointed for him and for Tidiane and for this young man's whole family. He worked incredibly hard to get to this day, has done everything he could to get to this point and cannot play. It is a very disappointing situation for my client and sure it is very difficult for Cheick as well," Jackson added in an interview with the Journal-World late Friday afternoon.
The day started on a promising note when the NCAA declared Central Florida freshman center Tacko Fall eligible for participation on Opening Night of the 2015-16 season. Alas, nothing changed in Diallo's eligibility case.
Podcast episode
Kansas basketball coach Bill Self answers questions from the media following KU's season-opening, 109-72 victory over Northern Colorado at Allen Fieldhouse.
"Being involved in these cases, I've said for years I give the administrative process every opportunity to work," Jackson said, asked if he planned to file a lawsuit against the NCAA anytime soon.
"I've seen players who have gone through this (missing games), and it has impacted their careers. Mike Williams at Texas, a McDonald's All-American player, missed the first six, seven, eight games of the season. He never really got into the flow, never got into the mix at Texas and wound up transferring to Cincinnati. He had a good career, he didn't have the career he could have (had).
Podcast episode
Kansas basketball players Brannen Greene, Devonté Graham and Perry Ellis describe the enjoyment the Jayhawks had in scoring 109 points in their season opener against Northern Colorado.
"This game (against Northern Colorado) is important to his (Diallo) development, his career. It's his first collegiate game, and he is sitting in street clothes watching his first game. That has an emotional impact on an athlete," Jackson added.
With the NCAA work week over, Jackson will continue the battle next week, he said.
"Three of my favorite words in the English vocabulary are, 'Cleared to play,'" Jackson said. "Hopefully we'll hear those words in a short period of time."
More on Diallo: Asked if there was hope today that Diallo might be declared eligible, KU coach BIll Self said: "I would say maybe a little bit. At the rate that it's moving we didn't think there was really a chance." ... KU's students chanted "Free Diallo" in the second half. Also, students in the north end zone had FREE DIALLO painted on their chests.
Book signing coming next week: Local author/former Journal-World reporter Steve Buckner will be signing his book, "Game of My Life," from 9 a.m. to 11 a.m. on Nov. 21 at the Kansas Union Bookstore. The signing will precede the KU-West Virginia football game. It's a book about former KU players discussing the best games of their KU careers.
This, that: KU is 2-0 vs. Northern Colorado and 16-0 vs. teams in the Big Sky. ... KU has won 25 in a row in Allen, which ties for the ninth-longest home court winning streak in school history. ... KU has won 43 straight home openers in Allen. ... KU is 191-9 in Allen under Self. ... KU hit 15 three-pointers, which marks the most by a KU squad since the Jayhawks hit 15 against American on Dec. 29, 2012. ... KU had 27 assists, its most in a game since it posted 29 against West Virginia on Feb. 6, 2013.
— See what people were saying about the game during KUsports.com's live coverage.
---
More news and notes from Kansas vs. Northern Colorado
---