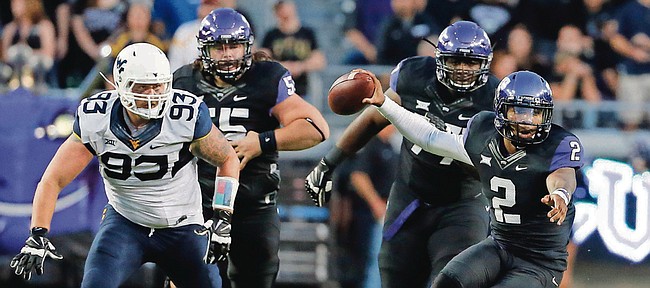 Kansas Jayhawks (0-9 overall, 0-6 Big 12) vs. No. 8 Texas Christian Horned Frogs (8-1 overall, 5-1 Big 12)
11 a.m., Armon G. Carter Stadium, Fort Worth, Texas — Game-time forecast: 59 degrees, cloudy, 0 percent chance for rain, winds 8 mph from the southeast — TV: FOX Sports 1
Log on to KUsports.com for our new-look live game blog coverage and follow the KUsports.com staff on Twitter: @KUSports @mctait @TomKeeganLJW and @bentonasmith
---
Keys for Kansas
1 . Boykin in the middle

During last year's near upset of the Horned Frogs, the Jayhawks recognized that TCU quarterback Trevone Boykin was not nearly as effective or accurate in hitting intermediate passes. So KU did what it could do to keep him in the pocket and encourage him to make those throws. It nearly worked, and Boykin and company escaped with a 34-30 victory. While that plan of attack surely will be looked at again, defensive coordinator Clint Bowen said it was not as simple as doing the same thing and hoping for similar positive results. "They've continued to evolve and have developed a few more weapons," Bowen said. Still, because he's so dynamic as a runner and with the deep ball, the emphasis of KU's defense will be to keep everything in front of it and fly to the football.
2 . Be efficient, not fast
During last week's upset of TCU, 10th ranked Oklahoma State ran less than half as many plays at the Horned Frogs yet still threw up nearly 500 yards of offense and won by 20. Four TCU turnovers contributed greatly to that, but the Cowboys also were extremely efficient when they had the ball, gaining 8.6 yards per play while holding TCU to 6 yards per snap. Most of OSU's damage came through the air so KU freshman Ryan Willis, provided he gets good protection, may have a chance to put up good numbers.
3 . Kick-start Kinner

After rushing for 270 yards on 43 carries during his first two weeks as a Div. I player, junior running back Ke'aun Kinner struggled to just 114 yards on 50 carries during the next six weeks. Injuries and an increase in the talent level of the competition created most of the problem, but after last week's 13-carry, 69-yard rushing day that included one catch for 40 yards, the KU coaching staff believes the real Kinner is back, and the offensive game plan will be designed with him in mind. His ability to hit big plays and keep the chains moving not only keeps KU's offense on the field — and TCU's offense off the field — but also would help take some of the pressure off Willis.
---
Mega Matchup: TCU WR KaVontae Turpin vs. the KU secondary
On the first play last week in Austin, Texas, the Longhorns attacked KU junior Marnez Ogletree through the air and hit Kansas with an 84-yard touchdown. The big play set the tone for the night and put the Kansas defense on its heels. With or without leading receiver Josh Doctson, whose status for today's game is up in the air because of a wrist injury he suffered in the loss to Oklahoma State, the Frogs have more than enough weapons to make life miserable for the KU secondary. The one guy who figures to get a lot more work if Doctson can't go is true freshman KaVontae Turpin, a 5-foot-9, 152-pound wideout who ranks first nationally among freshmen with a 16.4 yards-per-touch average. Turpin caught seven balls for a career-high 107 yards last week, and his 462 yards receiving are the most by a TCU freshman since Josh Boyce finished 2010 with 646. "They've got one of the fastest dudes I've ever seen, the Turpin kid," KU coach David Beaty said. "That kid can fly. They've got a bunch of ways they can hit you, a bunch. I think you have to find a way you pick to slow them down and then try to react to some of the other stuff, because you can't stop all of it. You have to manage it."
---
5 Questions with co-defensive coordinator and cornerbacks coach Kenny Perry
1. Late in last week's loss at Texas, your son, Keaton Perry, threw the first touchdown pass of his college career. What was that moment like for you?
It was obviously a really neat, cool thing, but, from the coaching side of it, and having been with him before, that was just kind of routine. But deep down inside, that was awesome. After the game, I couldn't wait to hug him, I just didn't want to do it out there in front of everybody.
2. You spent a good chunk of your life in the Fort Worth area coaching high school football and, most recently, at TCU. What are the emotions like for you heading back there this week?

It's gonna be real emotional. Coach is one of my best friends. We talk weekly, we wish each other good luck, and he has a hammock at his house, and we used to sit out there and talk, and I told him I might come over and lay on the hammock. He said, 'Not till after the game.' It's gonna be neat. When you've lived somewhere for 40 years of your life, it's always fun going back.
3. TCU coach Gary Patterson is known as a defensive mastermind. What aspect of Patterson's coaching chops impresses you the most?

Nonstop tenacity of wanting to be great. People talk about wanting to be really good, but once he walks through that office door, it's like that every day during football season. His tenacity of wanting to be great every single snap is pretty neat.
4. The coaching staff has talked a lot about getting better every week. What's one clear area in which your cornerbacks have gotten better this season?


You go from the very first game to, now we're playing the best receivers in the country, and we're playing them hard, they're there for balls, they're playing balls and they're stopping some of the best guys. You want these kids to develop, and that's what I'm trying to do.
5. You have inside knowledge of the TCU program and have seen firsthand what makes the Frogs work. So what's the recipe to beat these guys?
Honestly, we want to win, but our thing is little victories, and when you're playing against great teams, you've gotta have little victories. We're playing against a guy who's a Heisman Trophy candidate, and we just have to go out there and try to get better for years to come and find anything positive you can take out of the game.
---
Jayhawk Pulse
KU's final road test of the 2015 season brings the Jayhawks their final opportunity to put their road losing streak to bed. KU entered the season having lost 33 consecutive games away from Lawrence, and that number has climbed to 37 with losses at Rutgers, Iowa State, Oklahoma State and Texas. If KU can't get a win today in Fort Worth, the Jayhawks will take a 38-game road losing streak into the offseason and won't get their next crack at snapping it until Week 3 of the 2016 season, Sept. 17 at Memphis. The fact that it's an angry and talented TCU team standing in the way does not bode well for the Jayhawks, who will treat today's game like they've treated all of the rest this season — as an opportunity to get a little better every half, every quarter and every snap.
---
Tale of the Tape
KU run game vs. TCU run D — edge: TCU
KU pass game vs. TCU pass D — edge: TCU
TCU run game vs. KU run D — edge: TCU
TCU pass game vs. KU pass D — edge: TCU
Special teams — edge: TCU