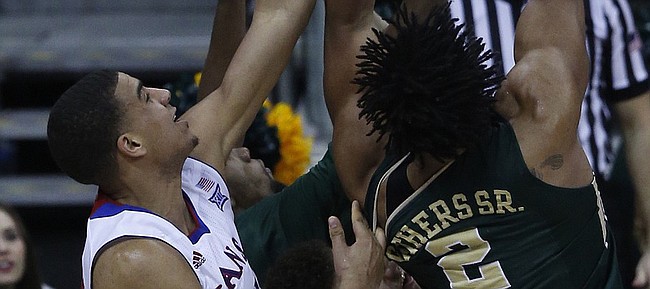 Kansas City, Mo. — Everybody's been talking about Perry Ellis and his sprained right knee.
Garnering a lot less attention are the ailments of Kansas University sophomore Landen Lucas, whose "body is worn out right now," KU coach Bill Self said before Friday's KU-Baylor Big 12 tournament semifinal in Sprint Center.
Lucas, who scored four points, grabbed six rebounds, had two blocks and an assist in 25 minutes in a 62-52 win over the Bears, smiled when asked if his knee and hip were the problem areas.
Photo Gallery
Kansas v. Baylor in Big 12 Touranment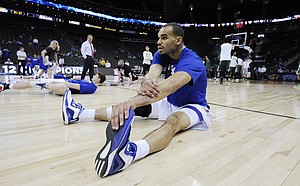 Images from the Jayhawk's game against Baylor in the semi-finals of the Big 12 Tournament in K.C. MO., Friday.
Podcast episode
Kansas basketball coach Bill Self and Jayhawks Perry Ellis and Wayne Selden Jr. discuss KU's 62-52 win over Baylor in the Big 12 Tournament semifinals. Kansas won with defense, a big night from Selden and the return of Ellis.
KANSAS 62, BAYLOR 52
"Hip, knee, back ... there's a couple things. At the end of the day, it's minor compared to what we're trying to accomplish," Lucas said.
The 6-foot-10 Portland native has been spending a lot of time in a makeshift training room at the Marriott hotel, the team's headquarters for the Big 12 tourney.
"Machines, ice baths ... we have a great staff that provides that, makes it happen," Lucas said. "At this time of the season you have to expect these things (bruises) and play through it. Understand that this is what you play for all year. It's not the time of year to be worrying about that (beat-up body). You've got to worry about that after the season is over. I'm getting through it fine and I know other guys on our team are doing the same thing."
More news and notes from Kansas vs. Baylor at the Big 12 Tournament
---