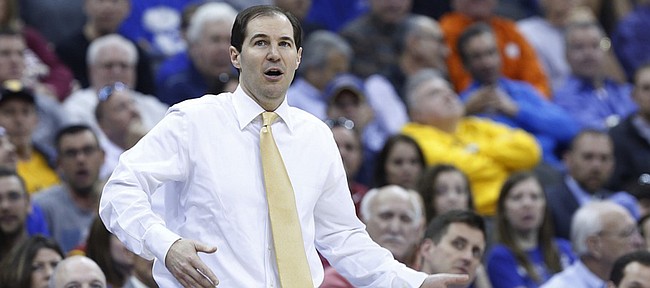 Kansas City Mo. — When it comes to conference foes who have faced each other a bunch of times during the past few seasons, players and coaches tend to know when something's off about a guy or team with which they are familiar.
That was the case for the Baylor Bears on Friday night with Kansas' Perry Ellis, who scored 11 points and grabbed six rebounds in 26 minutes of a 62-52 Big 12 tournament semifinal victory at Sprint Center.
The outing was Ellis' first game action since injuring his knee in a win over West Virginia on March 3, but the Bears did not see the same Ellis they had become accustomed to game-planning ways to stop during the past three seasons.
Photo Gallery
Kansas v. Baylor in Big 12 Touranment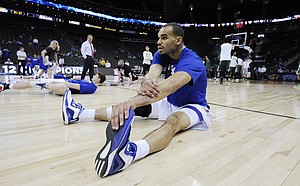 Images from the Jayhawk's game against Baylor in the semi-finals of the Big 12 Tournament in K.C. MO., Friday.
Podcast episode
Kansas basketball coach Bill Self and Jayhawks Perry Ellis and Wayne Selden Jr. discuss KU's 62-52 win over Baylor in the Big 12 Tournament semifinals. Kansas won with defense, a big night from Selden and the return of Ellis.
KANSAS 62, BAYLOR 52
"He was looking more for his jumper," said Baylor big man Rico Gathers, who finished with 11 points and 13 rebounds for the Bears. "You could tell that he was favoring that knee, but he did what good players do. Guys like that have a lot of options and he started looking more for his jumper."
Ellis drained a three-pointer from the corner in front of the Bears' bench early in the game and also hit a jumper from the baseline on the other side of the basket a few minutes later.
Gathers said he did not feel the injury nor the bulky brace on Ellis' right knee kept the KU junior from impacting the game, but did say he thought it took away some of Ellis' explosiveness.
"I would agree with that," Gathers said. "You could tell that he had to do something different, but he was still real effective for his team."
Added BU junior Taurean Prince of Ellis: "He did a great job tonight and proved to the world why he is who he is. At first, it looked like he was kind of limping or something but after a couple of trips up and down the floor he was the Perry Ellis we all know."
Ellis' return was not necessarily what forced the Bears (24-9) into a 33 percent shooting night and a season-low 52 points. Poor shooting was. Baylor made just five field goals in the first half, drained just four of 22 three-point attempts and only tallied 24 points in the paint, a number that KU (26-7) matched.
Both Gathers, who called Friday's loss Baylor's worst game of the season, and senior guard Kenny Chery (20 points on 7-of-14 shooting) said teams were entitled to bad shooting nights and added that they were glad that theirs came now instead of a week later. But BU coach Scott Drew gave the Jayhawks' defense some of the credit.
"When you play everybody a third time, everybody knows each others's offense, their sets, (and) nothing comes easy," Drew said. "So sometimes results are more one-on-one play, and one-on-one play against good team defense (makes it) tough to score." 
More news and notes from Kansas vs. Baylor at the Big 12 Tournament
---