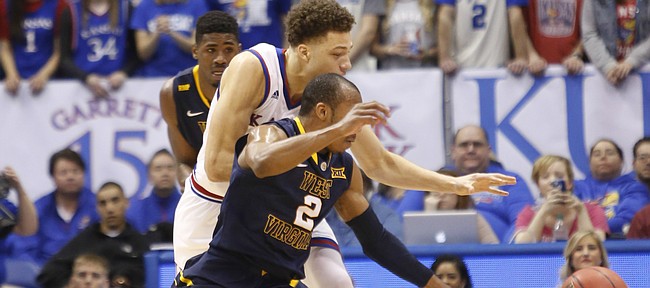 After competing as hard as they could for nearly 40 minutes on Tuesday night, at least a couple of members of the West Virginia men's basketball team allowed themselves to peek up at the scoreboard and think about how close they were to knocking off ninth-ranked Kansas at Allen Fieldhouse.
"It was two minutes and like two seconds left and we were up five and all we needed was one more stop," recalled WVU junior Jonathan Holton following Tuesday's 76-69 overtime loss. "That's the last thing I remember. It was crazy. The atmosphere. It was a tough loss. That's all I can say."
Freshman guard Daxter Miles Jr., was right there with him, although he did not remember exactly when the thought first crept into his head.
Photo Gallery
Kansas basketball v. West Virginia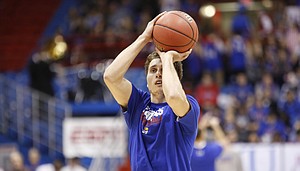 Images from Tuesday's game between the Jayhawks and Mountaineers at Allen Fieldhouse.
Podcast episode
Kansas basketball coach Bill Self discusses the highs and lows of a long night that included an 18-point comeback, overtime and an outright Big 12 championship.
Podcast episode
Kansas basketball players Frank Mason III, Jamari Traylor and Devonté Graham discuss the Jayhawks' wild comeback and overtime victory over West Virginia in KU's regular-season home finale.
KANSAS 76, WEST VIRGINIA 69 (OT)
"Yeah. I thought we got this one, but you can never sleep," said Miles, who scored a game-high 23 points on 8-of-15 shooting, including a 5-of-9 performance from three-point range. "Once you've got your opponent down, you've gotta stick your foot on the neck so they won't try to fight back. We let them fight back and they were better than us at the end."
The end, when West Virginia (22-8 overall, 10-7 Big 12) missed too many free throws and saw Kansas close with a 16-7 run that forced overtime, was the only thing most of the Mountaineers felt like talking about while the Jayhawks (24-6, 13-4) celebrated Big 12 title No. 11 in a row out of the court. And they talked about it even though the mere thought of what had just happened was so painful that tears welled in their eyes.
"They played harder than us at the end and they wanted it more," Miles said shaking his head. "And I think we didn't play as hard as we usually play toward the end of the game. We made some big mistakes at the end of regulation and we made some dumb turnovers. It's hard, man. It's hard."
WVU coach Bob Huggins, though clearly proud of his team's fight and competitiveness, could not help but sigh about Tuesday's free throw discrepancy. KU, which Huggins said attacked the basket better than his squad, made 34 of 43 free throw attempts (79.1 percent) compared to just 16 of 28 (57.1 percent) for West Virginia.
"When you're standing where I'm standing, sometimes you think things aren't quite equitable," Huggins said. "That's as nice as I can say it.... The truth is they shoot 43 free throws, we shoot 28 times, you're not gonna win. Turn it over 22 times, you're not gonna win."
Despite those facts, Huggins left Lawrence believing his team did all it could in terms of effort to achieve a different result.
"We deserved to win the game," Huggins said. "We didn't do enough at the end. I thought our guys played hard, we didn't play very smart.... There's just some things that happened that you can't explain."
---
More news and notes from Kansas vs. West Virginia
---