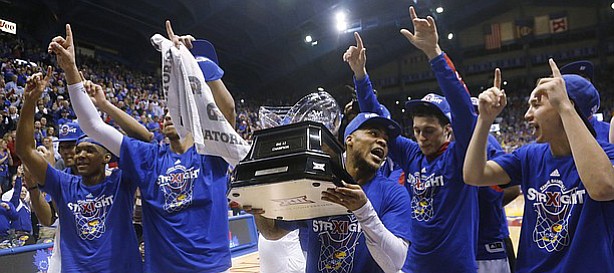 Kelly Oubre Jr., who had fouled out of a fierce overtime battle, charged off the Kansas University basketball bench to greet Wayne Selden Jr., at center-court as the buzzer sounded on Kansas University's 76-69 come-from-behind victory over West Virginia on Tuesday night in Allen Fieldhouse.
The Jayhawk players put on their blue Big 12 championship hats and T-shirts and waved to the student section following an improbable victory attained without junior forward Perry Ellis, who sprained his right knee late in the first half and didn't return, except to help clip the nets after the game.
Yes, the Jayhawks won their 32nd straight game on Senior Night, and wrapped up an undisputed 11th straight Big 12 crown, despite trailing by a whopping 18 points in the first half.
Photo Gallery
Kansas basketball v. West Virginia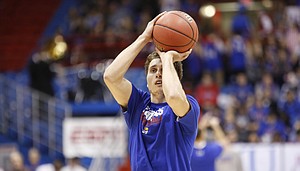 Images from Tuesday's game between the Jayhawks and Mountaineers at Allen Fieldhouse.
Podcast episode
Kansas basketball coach Bill Self discusses the highs and lows of a long night that included an 18-point comeback, overtime and an outright Big 12 championship.
Podcast episode
Kansas basketball players Frank Mason III, Jamari Traylor and Devonté Graham discuss the Jayhawks' wild comeback and overtime victory over West Virginia in KU's regular-season home finale.
KANSAS 76, WEST VIRGINIA 69 (OT)
"I don't know how we did it but we did it," said KU junior forward Jamari Traylor. 
He scored 14 points and grabbed nine rebounds and put the Jayhawks ahead to stay with a vicious dunk in overtime helping KU prevail on a night it went 0-for-15 from three-point land to the Mountaineers' nine of 25 mark.
The Jayhawks, who trailed, 40-22 with 1:22 left in the first half and by 14 at halftime, also were out-rebounded, 46-34.
And still won.
"Senior Night (this year for Christian Garrett) is a special night. It wouldn't have been the same if we hadn't won this game," KU coach Bill Self said after the Jayhawks improved to 24-6 overall and 13-4 in the league with one game remaining Saturday at Oklahoma.
It turned out to be one of the most "special" nights of the 12-year Self era.
"I would say that's as good a win as we ever had here," Self stated. "We've not had a better win here for higher stakes than what that was. You can't get anything going and the kids figure out a way to do it. It's pretty special to sit there and see those guys pull it off. We found a way to do it."
KU won with Ellis sitting out a half and Cliff Alexander missing his second straight game over possible eligibility issues. Meanwhile, Oubre (12 points, three boards) fouled out and had to miss an overtime that KU won, 17-10.
"The only game that would compare to it when you play this poorly and get dominated when you don't have anything going, lose your best player and have another starter sitting out .. the Missouri game would rival it. We were down to them 19 in the second half (in final game of KU-MU series), 18 today," Self said.
The night could have been disastrous had Ellis sustained a severe injury.
Instead, MRIs showed a right knee sprain that is not deemed serious. 
In fact, Self would not rule out Ellis for Saturday's game against Oklahoma, though the plan is to have him ready for next week's Big 12 Tournament, starting a week from Thursday for KU in Kansas City, Missouri.
"Perry had the flu. He got off to a bad start anyway, then gets hurt," Self said. "We think he can be back in a week or so. We think Oklahoma can be a long shot."
He added ... "The MRI was very positive. It's a sprained knee. With so many things going on, I'll not say we'll try to get him to practice Friday for Saturday. I don't think that's realistic. Doctors said it was realistic getting back next week but could be pushing it (for Saturday at OU). I will not say he won't play Saturday, but the likelihood is not good."
The Jayhawks trailed this one, 40-22, with 1:22 left in the first half and by 14 points at the break. However, KU clawed back and finally tied the score at 59 on two Devonté Graham free throws at :11.5. West Virginia's Jevon Carter missed a three and Nathan Adrian had a stick-back shot swatted inside by Landen Lucas as the game went to an extra session.
"I didn't have any nerves, ice water in my veins (on the two free throws)," Graham said after scoring 10 points and hitting six of eight free throws. Mason hit 11 of 12 free throws and had 19 points in 42 minutes.
"I stepped up to the line and was saying, 'Game time. Game time.' I had to make the free throws even though I missed a couple before that," Graham added.
The game-winning points in overtime came off a vicious slam by Traylor with 3:02 left, breaking a 65-65 tie. He hit one of two free throws at 2:08, giving KU a 68-65 lead.
Mason went all coast to coast for a layup at 1:23 to up a 68-66 lead to four points. Mason then hit two free throws at :44.4 and KU was up six, 72-66
Daxter Miles Jr. hit a three to make it interesting, 72-69, at 31.3. However, Mason made two free throws at 16.6 seconds to up the lead to four and give KU breathing room.
"For a bunch of young kids to win that game ... how that game went, they hung in there. I'm tired," Self gasped. "I think all our coaches are tired."
Of prevailing on Senior Night once again, Self joked: "We were almost the asterisk."
KU will meet Oklahoma at 3 p.m., Saturday, in Norman with the game meaningless except for potential NCAA seeding.
---
More news and notes from Kansas vs. West Virginia
---