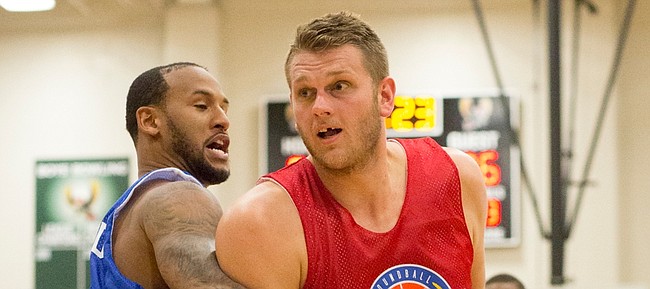 No basketball player in his right mind would enjoy the distinction of suiting up for one of the league's worst teams — even if that league is the NBA and that team plays its home games in New York City.
Former Kansas University center Cole Aldrich carries himself with too much positive energy, though, to let a season's worth of "the Knicks are so bad" jokes get under his skin. While New York finished 17-65 — only one game better than the NBA's worst team in 2014-15, Minnesota — Aldrich's second season with the Knicks went better (for him at least) than any of his previous four years in the league.
"It's a learning experience," the 6-foot-11 big man said Thursday, after playing in his fourth Rock Chalk Roundball Classic charity game. "Personally, I had a good year. I had an opportunity to go out and play, and played well. It was obviously tough, because we weren't winning games, but I think the biggest thing we learned was I've been on teams that won 55 games and now I've been on a team where we won 17, and you (can't) take a different approach."
Aldrich's professionalism helped him achieve career-high averages in points (5.5 per game), rebounds (5.5), blocks (1.1), assists (1.2), field-goal attempts (4.9), free-throw attempts (1.1) and minutes (16.0). The 26-year-old also set new career marks by playing in 61 games and starting 16. He entered the season with two starts in his entire career.
Despite all the Knicks' woes, Aldrich finished the season with two of his best outings in the final week. He scored 19 points and grabbed 14 rebounds in a one-point win at Orlando on April 11. Four days later, he beat both of those numbers with 24 points and 15 boards in New York's season finale.
"For me it was learning hands on," Aldrich said of his career campaign. "I just finished my fifth year, and to be able to get on the court and show people I could still play, it was great. And there were some adjustments. I hadn't played a whole lot and been in the starting lineup — just adjustments that you make along the run."
During first two tours through the NBA, Aldrich played sparingly for Oklahoma City, as the Thunder reached the Western Conference Finals and the NBA Finals. Year Three for the end-of-the-bench post player brought two trades: first to Houston, then to Sacramento. The Knicks picked him up as a free agent prior to the 2013-14 season, then re-signed him last summer.
Through all the ups and downs, Aldrich learned an easy way to bring some regularity to the grind.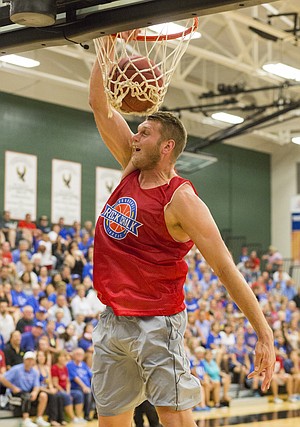 "You just have to come in every day ready to work and get better," he said.
Just like each of the past two summers, the former KU star enters July not knowing what exactly the coming season has in store. Aldrich, who signed a one-year, $981,084 contract with New York nearly a year ago, again is a free agent, and can begin negotiating with with any team that wants him as early as July 1.
"It's just nice to get out there again," he said. "It's another summer to get better, and that's all that matters."
At this juncture, the Minnesota native has no idea if he'll be in a New York uniform again in 2015-16 or finding another NBA city to call home.
"I don't really know what's out there for me right now," Aldrich said. "You know, with the draft coming in a week (on Thursday), I'll probably know a little more, but right now it's just focus on what I can do to get better."
His trip to Lawrence for the Rock Chalk Roundball Classic provided a break from any stress that comes with free agency. It marked his fourth time playing in the event, which benefits cancer patients.
"It's just been fun to come back and see guys, and more importantly just come out here and support these families that are going through a tough time," the smiling center said while holding a pair of autographed Under Armour basketball shoes he was about to give away for charity.
He also got to play alongside former KU teammate and buddy Tyrel Reed.
"It's not cool at all," Aldrich said, laughing, giving the guard a hard time.
The big man stayed with his old running mate while making the trip to his college town. Aldrich said they remain best friends and visit each other every offseason.
"I just wish he would've made a few more shots when I passed it to him," Aldrich joked.