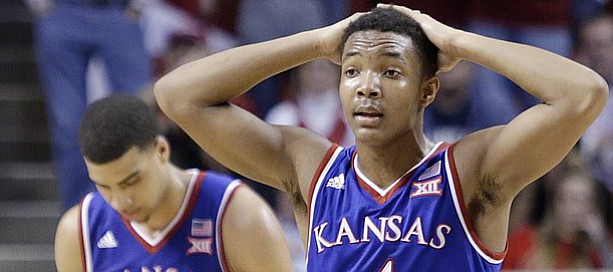 Down a returning point guard just more than a week before his team leaves the country for the World University Games, Kansas University basketball coach Bill Self finds himself scrambling, in search of a replacement.
In May, Self added SMU senior point guard Nic Moore to the Jayhawks' roster for the South Korea trip, and figured his 12-player team was all set.
However, when KU sophomore point guard Devonté Graham partially tore a quad tendon above his knee Wednesday, the U.S. lineup again looked incomplete. Self learned the extent of Graham's injury Thursday night and immediately started his search for another guard.
"All we do is just call coaches and ask if they've got their best player that's a guard, that's not in summer school and has a passport and doesn't have anything to do the next 23 days and has no plans," Self joked of the criteria for the late addition. He was speaking before the 12th-annual Bill Self/Lawrence Parks and Recreation Golf Classic at Eagle Bend.
"It's OK to call somebody on short notice and say, 'Hey, let's go do something.' But we're not going to dinner," Self added. "It's a little bit hard to do when you have a long commitment like that."
KU will play in the Games July 3-14 in Gwangju, South Korea.
Guards on the roster are Frank Mason III, Wayne Selden, Jr., LaGerald Vick, SMU's Moore as well as KU non-scholarship players Evan Manning and Tyler Self. The bigs are Perry Ellis, Jamari Traylor, Landen Lucas, Carlton Bragg and Hunter Mickelson.
"We've just got to get enough guys healthy to go on the trip, because we're beat up right now," Self said. Brannen Greene is unavailable as he recovers from offseason hip surgery. "And then we've messed around and recruited enough international players (Ukraine's Svi Mykhailiuk, Mali's Cheick Diallo and Bahamas' Dwight Coleby) that they're not eligible. So we need a little help."
Self hoped to have the roster situation "sorted out, hopefully by tomorrow (today) for sure."
Self said Raleigh, North Carolina sophomore Graham is expected to recover in four to six weeks, then will start rehabbing for a full return.
"It's pretty significant," Self said. "He's out for the summer more than likely."
KU senior forward Jamari Traylor, who hurt his hip on Tuesday, practiced some on Friday, Self said.
"He'll practice a little bit more tomorrow and hopefully be full speed by the end of the weekend," Self said. "He's fine. Just day-to-day."
Golf talk: Self's Lawrence Parks and Recreation Department Golf Classic benefits the department's youth scholarship fund. Self described the number of youths served by LPRD as "staggering."
"Now that we've made so many improvements from a facilities standpoint with Sports Pavilion Lawrence going on and everything," Self said of the new recreation facility adjacent at Rock Chalk Park, "it's just going to make for a much better community and much better lifestyle for younger people — especially younger families — and hopefully attract more families to our community."
Busier than usual this summer, with the World University Games on tap, Self said he hasn't golfed as much as past years.
"I'm usually on round 20 or 25 right now. I'm about on round five," he said. "It stinks, and summer's officially over next Sunday — at least it is for us."
KU will leave for South Korea on June 28, after playing two exhibitions against Canada Tuesday and Friday of this coming week, at Sprint Center, in Kansas City, Missouri.
"I don't think we'll get an opportunity to take our clubs over there and get a chance to play," Self said with a smile.
Later, Maker: Thon Maker, a 7-foot center from Orangeville Prep in Mono, Ontario, has decided to remain in the recruiting Class of 2016, Maker told Zagsblog.com at the NBPA Top 100 camp. Maker, who is ranked No. 9 nationally by Rivals.com, had talked about enrolling at a college for second semester of the 2015-16 season.
— The Journal-World's Gary Bedore contributed to this report.