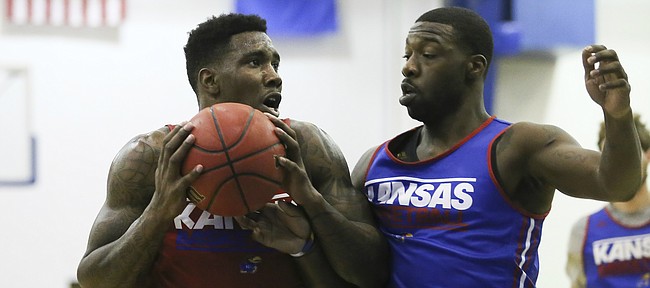 Even though Kansas University will have to play in the World University Games without sophomore point guard Devonté Graham, the Jayhawks aren't worried about an injury to one of their big men.
Senior forward Jamari Traylor hurt his hip Tuesday, leaving the team even more shorthanded the past couple days at practices, given the absences of injured Graham (torn quad tendon) and Brannen Greene (recovering from hip surgery).
But Traylor, a 6-foot-8 forward, participated in parts of practice Friday morning, according to KU coach Bill Self.
"He'll practice a little bit more tomorrow and hopefully be full speed by the end of the weekend," Self said. "He's fine. Just day-to-day."
Golf talk: The 12th annual Bill Self/Lawrence Parks and Recreation Department Golf Classic, played Friday at Eagle Bend, benefited the department's youth scholarship fund.
Self described the number of youths served by LPRD as "staggering."
"Now that we've made so many improvements from a facilities standpoint with Sports Pavilion Lawrence going on and everything," Self said of the new recreation facility adjacent to Rock Chalk Park, "it's just gonna make for a much better community and much better lifestyle for younger people — especially younger families — and hopefully attract more families to our community."
Busier than usual this summer, with the World University Games looming, Self said he hasn't done nearly as much golfing this year.
"I'm usually on round 20 or 25 right now. I'm about on round five," the Jayhawks' coach said. "It stinks, and summer's officially over next Sunday — at least it is for us."
KU will leave for South Korea on June 28, after playing two exhibitions against Canada Tuesday and Friday of this coming week, at Sprint Center, in Kansas City, Missouri.
"I don't think we'll get an opportunity to take our clubs over there and get a chance to play," Self quipped.