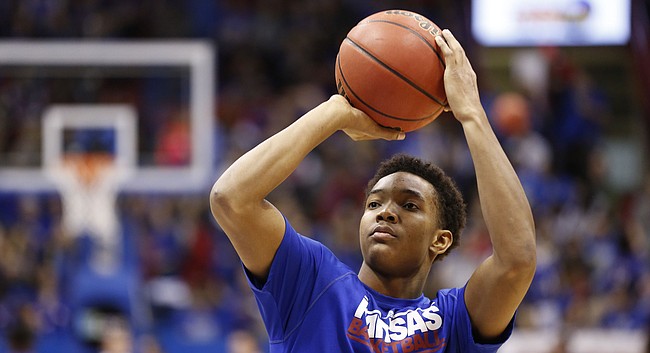 Down a returning point guard just more than a week before his team leaves the country for the World University Games, Kansas University basketball coach Bill Self finds himself scrambling, in search of a replacement.
In May, Self added SMU senior point guard Nic Moore to the Jayhawks' roster for the South Korea trip, and figured his 12-player team was all set.
However, when KU sophomore point guard Devonté Graham partially tore a quad tendon Wednesday, the U.S. lineup again looked incomplete.
"We're gonna add somebody. We've got to," KU's coach said Friday afternoon, before the 12th annual Bill Self/Lawrence Parks and Recreation Department Golf Classic, at Eagle Bend Golf Course. "I think we'll have it sorted out, hopefully by tomorrow for sure."
Graham can't play in the World University Games — July 3-14, in Gwangju, Korea — leaving Kansas with Frank Mason III, Wayne Selden Jr., Lagerald Vick, Evan Manning, Tyler Self and Moore at guard, and Perry Ellis, Jamari Traylor, Landen Lucas, Carlton Bragg and Hunter Mickelson as the post players.
"We've just got to get enough guys healthy to go on the trip, because we're beat up right now," Self said, alluding also to injured Brannen Greene, recovering from hip surgery and unavailable. "And then we've messed around and recruited enough international players (Ukraine's Svi Mykhailiuk and Mali's Cheick Diallo) that they're not eligible. So we need a little help."
As a result, Self and his staff have spent the past couple days hunting for Graham's replacement.
"All we do is just call coaches and ask if they've got their best player that's a guard, that's not in summer school and has a passport and doesn't have anything to do the next 23 days and has no plans," Self joked of the criteria for the late addition.
"It's OK to call somebody on short notice and say, 'Hey, let's go do something.' But we're not going to dinner," the coach said of the difficulty involved. "It's a little bit hard to do when you have a long commitment like that."
As for Graham, Self said medical staff expect the second-year point guard from Raleigh, North Carolina, to recover in four to six weeks, then start rehabbing his knee for a full return.
"It's pretty significant," Self said. "He's out for the summer more than likely."