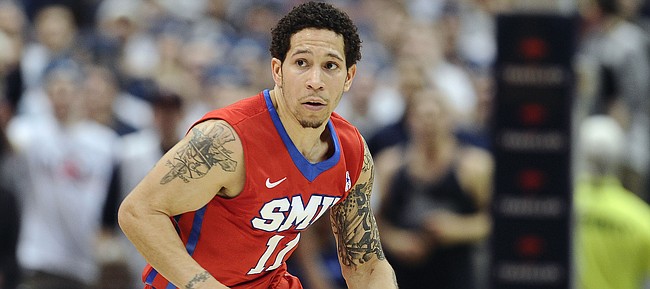 Nic Moore, a 5-foot-9, 170-pound senior point guard from SMU, has been added to Kansas University's World University Games roster, KU coach Bill Self told the Journal-World.
Moore, who is from Winona Lake, Indiana, was the 2014-15 player of the year in the American Athletic Conference after averaging 14.5 points, 5.1 assists, 2.3 rebounds and 1.3 steals a game last season for Larry Brown's Mustangs.
He hit 42 percent of his shots and 41.6 percent of his threes (77 of 185). Moore scored 20 or more points in nine games and had five or more assists in 21 games. He hit a school-record eight threes in 11 tries en route to 28 points against Houston. He had 24 points against UCLA in the NCAA Tournament. Moore was honorable mention All-America by the Associated Press.
"He is a good player. He's one of the best guards in the country period," Self said. "He can play on the ball. He can play off the ball. He's little, so we'll have three little guys running around out there sometimes," Self added of Moore, Frank Mason (5-11) and Devonté Graham (6-2)."
Self explained the reasoning behind extending an offer to SMU's Moore to play for KU in the tournament in July in South Korea as well as a pair of exhibition games against Canada on June 23 and 26 in Kansas City's Sprint Center. He'll also practice with the Jayhawks' World Games team starting June 8.
"The key for us is we can travel with 12 players (to South Korea). The reason we're taking a player from another school is because Svi (Mykhailiuk) cannot go (because he is not U.S. citizen) and Brannen (Greene) is not able to compete because of his hip surgery so we're down to really three perimeter players (Mason, Graham, Wayne Selden).
"With the addition of a potential recruit, if we're able to do that, that would be four (6-5 LaGerald Vick who has committed to KU and is expected to be on the team once he makes official a reclassifying to the Class of 2015). Then we're still a perimeter player short so I looked around.
"Of course with the relationship we have with Jank (Tim Jankovich, SMU assistant) and coach Brown (Larry, SMU head coach), they told us all along, 'Hey if you need anybody, Nic would be a kid who would love to go.' We get a chance to take arguably the most valuable player in the American Conference and a terrific kid. They (Mustangs) do a lot of the same things we do so he'll be an easy blend for our guys."
SMU's Moore is thrilled to be able to join KU's World Games team this summer. He, of course, will return to SMU for his senior year following the University Games.
"I was up in the (SMU coaches) office one day and they (Jankovich, Brown) gave me the great news and said I'd have an opportunity playing with Kansas to represent the U.S. and go overseas and play," Moore said, noting it "was about a week ago."
"I've never been overseas to experience (something like) that, but just the opportunity to play with a great program and represent the USA, I feel like that's an accomplishment and just feels great," Moore added.
He doesn't know any of the KU players ... yet.
"I watch them throughout the season, catch them on TV. It's a fun group of guys to watch," Moore said. "I don't know them personally but watching 'em on TV, I feel like I know them," he added laughing.
Of his own game, he said: "I love the game of basketball. I'm always going to play hard. I'm a team player. Regardless of what I do, I just wish the best outcome for the team – and that would be a victory. Me being there is great and I just want to help and be positive, that's if I'm playing or if I'm on the bench. That's just who I am. I'm a team person."
Here's how the roster currently shapes up for the 12-man KU team: Mykhailiuk, Cheick Diallo (Mali native) and the injured Greene cannot attend, thus the Jayhawks have 10 available players in Mason, Selden, Graham, Jamari Traylor, Landen Lucas, Perry Ellis, Hunter Mickelson, Carlton Bragg, Vick (once he's in Class of 2015) and Moore. Self is hoping to bring in one more scholarship player, perhaps a transfer, and has said in the past he could fill the final spot or two spots with current walk-ons. Thus it is likely Moore will be the only player added from another school.
More like this story on KUsports.com