Julian DeBose, a 6-foot-4, senior combo guard from former Kansas University assistant Joe Dooley's Florida Gulf Coast team, will join KU's World University Games team, coach Bill Self said Saturday.
A transfer from Rice who is originally from Washington, D.C., DeBose averaged 11.6 points off 43.2 percent shooting (33 of 104 threes for 31.7 percent) with 41 assists against 41 turnovers last season. He had 28 steals in 30 games. He grabbed 3.9 rebounds per contest.
DeBose replaces the injured Devonté Graham on KU's University Games roster. The Jayhawks will play Canada Tuesday and Friday in KC's Sprint Center then play in the Games July 3-14 in South Korea.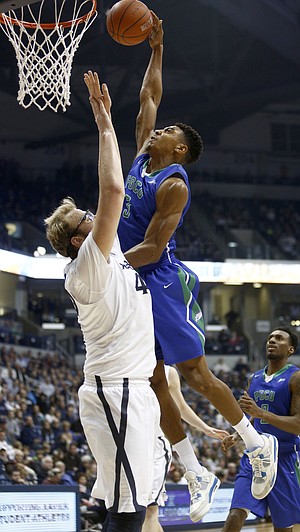 "He's a 6-foot-4, 200-pound guard who has been playing for Joe so he understands at least in theory what we are trying to do both offensively and defensively, Self told the Journal-World.
"Joe wanted us to take him all along," Self added. "We decided to take our guys plus Nic (Moore, SMU). Then when Devonté got hurt (quad injury) we obviously needed to add somebody. Julian arrived in Lawrence this afternoon and he'll be practicing with us starting tomorrow and be a part of the KU contingent from this point forward in getting ready for the World Games," Self added.
DeBose was the third-leading scorer for the (22-11) Eagles in 2014-15. He scored in double figures in 20 of his 30 games played.
"Joe said he will remind us a lot of (former KU guard) Travis Releford," Self said. "He's got good size. He's a jack of all trades and a great energy guy."
Prior to attending FGCU, DeBose played two seasons for Rice University in Houston. In his final season with the Owls (2012-13), DeBose started all 30 games and averaged 10.4 points and 4.3 rebounds per contest.
"I want to thank coach Dooley and coach Self for this opportunity," said DeBose. "I'm extremely thankful, excited and honored to represent my country.
Dooley said: "It's a terrific opportunity for Julian to not only represent the USA but also to play against some of the best competition at this level in the world," added Dooley. "For him to be selected is a testament to all the hard work he's put in, and we're looking forward to watching him in action."