Morgantown, W.Va. — Perry Ellis' eyes were moist as he met the media after missing a short shot at the buzzer in Kansas University's 62-61 loss to West Virginia on Monday night at WVU Coliseum.
"Definitely, man," the junior forward said, asked if he took the setback personally. "I feel like I could have made that shot, but it didn't happen, so I've just got to turn it around."
Ellis, who scored 19 points and grabbed five rebounds, accepted a long baseball pass from inbounds man Jamari Traylor, who took the ball out after Juwan Staten hit what turned out to be a game-winning layup with 3.9 seconds to play. 
Photo Gallery
Kansas basketball v. West Virginia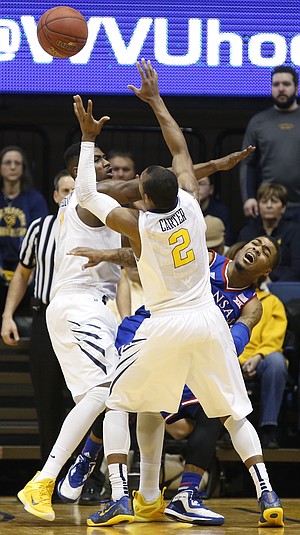 Images from Monday's game between the Kansas Jayhawks and West Virginia Mountaineers in Morgantown, W.V.
Podcast episode
Kansas basketball coach Bill Self answers questions about the breakdowns that cost the Jayhawks in a 62-61 Big Monday loss at West Virginia.
Podcast episode
Kansas basketball players Perry Ellis and Frank Mason III discuss the decisive final seconds of KU's 62-61 loss at West Virginia on Big Monday, when Juwan Staten scored a layup on one end of the floor, and Ellis missed a buzzer-beater immediately after it.
WEST VIRGINIA 62, KANSAS 61
Ellis caught the ball in stride, but misfired on the potential game-winning try.
"Jamari threw a good pass. I just missed it, man," Ellis said. "Maybe I rushed it a little bit. I should have made that. Unfortunately, I didn't."
Of course, the Jayhawks weren't blaming Ellis, who came up big with 15 second-half points.
"It's the same thing you'd see from anybody. He had his head down. We told him he's good," said freshman Devonté Graham. "It's tough. He had a layup and missed it for the game. Anybody would be devastated in a situation like that, but he'll be good."
Coach Bill Self liked the way KU put itself in position to win after Staten went coast to coast for his late layup.
"The end of the game was perfect. Jamari made the best pass of the year, Perry catches it right in stride and has an uncontested layup. Basically we just miss the layup," Self said.
"I told our guys (during time out at 8.3 seconds, KU up, 61-60) if anything bad happens and they score, we have no time outs left. The nearest guy get it and throw it long and the nearest guy go run (with ball). It worked out perfect," Self added.
"I'm not upset because we missed the shot," the coach continued. "I'm upset because we let Juwan get behind us when that was our whole game plan, keep the ball in front of us. That's on me. 
"He (Ellis) will get over it. Guys make shots, miss shots all the time. He can't let that bother him. But I am anxious to see how wide open he was. He may have been surprised how wide open he was there late."
The Jayhawks feel they lost this one when Staten accepted an inbounds pass in the backcourt from Gary Browne on the wing. He picked up a head of steam and hit the layup that beat KU with 3.9 to play.
"I think it was a bad play on me and my teammates. We didn't keep him in front of us. That was the whole main point, make him catch it in front of us and being strong help," guard Frank Mason III said after scoring 18 points and dishing two assists.
Noted Self: "He (Staten, 20 points) made a nice play but we couldn't defend it worse. In a situation like that you've got to keep the ball in front of you. It's my fault. I told Jamari to try to deny him with Frank. He got behind Jamari and behind Frank. We were going to switch everything. You've got to keep the ball in front of you. We did a crap job of that. He made a good play but certainly we couldn't have defended it any worse."
KU, which trailed, 19-8, at 9:41, lagged by just three at halftime, 33-30. The Jayhawks had nine turnovers against the WVU press, while forcing seven Mountaineer turnovers. KU finished with 14 turnovers to the Mountaineers' 11.
Staten hit four of 10 shots and scored nine points in 17 minutes the first half. He finished with 20 points in 32 minutes. Mason and Kelly Oubre Jr. had eight apiece for KU in the half. KU hit one of four threes to WVU's four of 11 in the first half; the Jayhawks made six of 11 to WVU's eight of 21 for the game. KU led by as many as seven in the second half.
"It's a tough place to play and they are a great team," Ellis said.
KU dropped to 21-5 overall and 10-3 in the Big 12; West Virginia improved to 20-6, 8-5. KU will next meet TCU at 3 p.m. Saturday in Allen.
---
More news and notes from Kansas at West Virginia
---