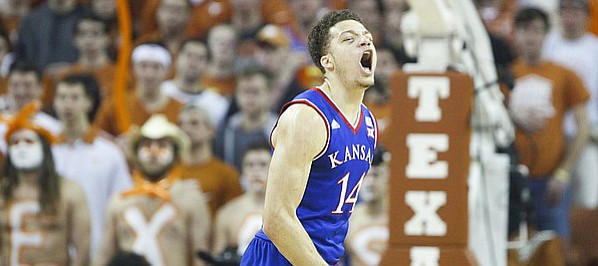 Morgantown, W.Va. — Toughness, the No. 1 word uttered by 21st-century college basketball coaches, typically evokes images of a guy taking a charge, rebounding in traffic, successfully finishing a drive while getting hammered and then knocking down the free throw.
Depending on your role, toughness can take on different meanings. If your role is to stretch the defense by shooting so well from long distance that the defense can't ever lose track of you, then toughness can mean hitting shots in big spots. Kansas University sophomore Brannen Greene does that with regularity, which makes him underrated in the toughness department.
Greene's focus can drift in and out as a defensive rebounder. It's getting better, but still isn't where it needs to be for him to take advantage of his 6-foot-7, 215-pound frame. His focus finding the open spot on the floor, based on the location of the ball and defenders, never drifts. His focus on catching the ball shoulders squared to the hoop, eyes locked on the rim, never wanders.
As well as Greene has shot from long range without teammates looking for him all that often, it stands to reason he'll shoot even better when they seek him out more regularly.
He ranks tied for sixth in the nation with a 50 percent three-point accuracy rate, second to Ohio State's Marc Loving (.525) among top 25 schools. In conference games alone, Greene has made .568 from three, best in the Big 12, despite making just 1 of 5 threes in the comeback victory in Allen Fieldhouse vs. Baylor.
In the previous four games, Greene nailed an amazing 17 of 24 three-pointers.
He'll test his three-point touch in a tough environment tonight against a West Virginia team that applies serious defensive pressure and a crowd intent on rattling the visitors.
Greene's not the first name that comes to mind when thinking about players suited to handle such hostile surroundings, but he actually has been among the team's best road performers.
In eight true road games, Greene has averaged 9.4 points in 18.5 minutes and has made 17 of 24 (.708) three-point shots and 14 of 16 free throws. Not surprisingly, Frank Mason has been the team's best road performer, averaging 14.3 points, shooting .506 overall, .500 from the three), except at the free-throw line (.565).
Too often, it seems, this Kansas team settles for three-point jumpers. But in the case of Greene, it's not settling. The more open threes teammates can deliver to him, the better for Kansas.