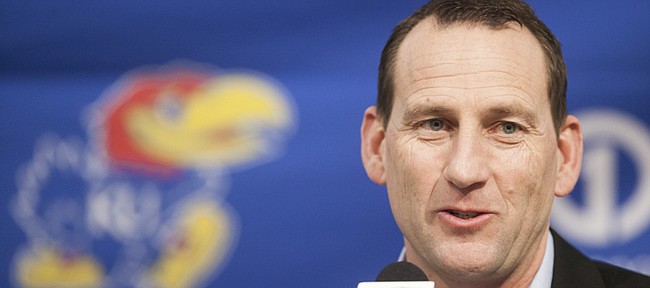 It may be just a subtle shift, but the focus of Kansas University football recruiting appears to have changed.
During the past five years, previous KU coaching staffs leaned on immediate playing time as their main selling point to entice recruits to sign with Kansas.
Not David Beaty.
Sure, the chance to play right away for a team in desperate need of quality depth and additional talent was part of his pitch. But Beaty, who officially was hired on Dec. 5 and had just six weeks to put together his first recruiting class, zeroed in on an aspect of football that's been tough to come by around here since Mark Mangino and Todd Reesing left town.
"One of the things we talked about is, this is going to be fun," said Beaty with eyebrows raised and a half smile highlighting his face. "Football is too hard not to be a little bit fun. We're going to be an up-tempo, high-flying, throwing-that-ball-around offense. It's going to be exciting to play in, an explosive attack."
And that's not just on offense either.
"Same thing defensively," Beaty said. "We're going to be a high-pressure, get-after-you, get-up-field, try-to-create-turnovers (defense). Those are things that we want to play in."
That's not to say any of it will be easy. By all accounts, both from current players and those who played for him in the past, new KU strength coach Je'Ney Jackson will be testing the Jayhawks in ways they did not know was possible during the coming months. And Beaty, whose Texas twang and energetic personality cause him to come off as one of those good ol' boys, also knows how to get down to business when the time calls for it.
"What I do in the weight room has to mirror what they want to do on the field," Jackson said last month. "If we're going to go fast, I can't have them moving slow in the weight room. They have to get used to being at a high tempo."
Beaty admitted that the opportunity to make an immediate impact on a program in the Big 12 Conference was important to several of the guys he and his staff went after on the recruiting trail. That was especially true of the guys from Texas. But while that chance may have been the thing that inspired the prospects to open the door or answer the call, it was what came after it that convinced many of them to sign with the Jayhawks on national signing day earlier this month.
"When those guys in that room sit (in front of those recruits) and they talk, I was in awe," said Beaty of his coaching staff. "When they talked about their systems, how they were going to bring those systems to KU, what their visions were; man, I was ready to sign. Those guys did a great job. Part of that vision is (a recruit) being able to see it. They were able to paint it for them."
Walk-ons rising
While Beaty's first class of scholarship players included just 24 new Jayhawks, the list of high school athletes interested in giving it a go in Lawrence was nearly twice as large as that number. Because of that, Beaty was able to encourage several of those uncommitted guys — particularly the in-state guys — to commit to Kansas as preferred walk-ons.
Back in December, when Beaty first met with the local media and talked about his plans for Kansas, developing a strong walk-on program was something he emphasized. In the weeks that followed, rather than focusing solely on the open spots in the signing class, Beaty continued to mine KU's recruiting hubs for untapped potential and came away pretty pleased with what he found.
"It's coming along great," Beaty said of the walk-on program. "That's a real advantage for guys that might be just a hair off of what they want to be to be a Division I player. Like I said before, there's more than 25 guys in the state of Kansas and throughout the country that want to come to Kansas and play Division I football. We have an opportunity that's a little bit unique right now that some people look at as a disadvantage. I look at it as an opportunity for some guys. I can't speak about anyone or anything other than the guys that we signed, but I'm very pleased with the progress of that program."
Beaty and the rest of the KU coaching staff are not allowed to talk about any unsigned players until they are enrolled on campus. Because of that, it's hard to know exactly who the future walk-ons will be until they are on the roster and working with the team. Even then, their spot is not set in stone, as several former walk-ons have been added to or dropped from the roster throughout the spring, summer and fall.