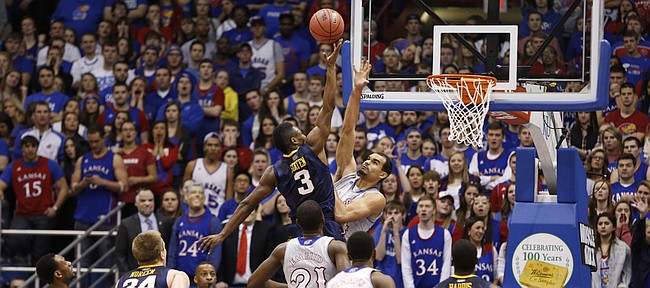 Morgantown, W.Va. — West Virginia senior point guard Juwan Staten had a rather subdued reaction last October when told he'd been voted 2014-2015 Big 12 Preseason Player of the Year.
"Thank God. I'm blessed. That was it," Staten, a 6-foot-1, 190-pounder from Dayton, Ohio told the Journal-World. "I like to stay on an even keel. You are never as good as they say you are and never quite as bad as they think. I'm going to work hard, regardless of what is said," Staten added.
A strong candidate for first-team all-Big 12 for the second straight season, Staten enters tonight's Kansas-West Virginia game (8 p.m., Central time, WVU Coliseum) somewhat of a longshot to claim the postseason Player of the Year award.
He's fifth in the league in scoring (team-leading 14.3 ppg off 41.5 percent shooting) and second in assists (4.6). In league-only games, he ranks 12th in scoring (12.2 ppg) while remaining second in assists (5.0).
"It (preseason honor) has definitely brought a bigger target. It's made me work a lot harder," Staten told WVUsports.com. "I realize teams are coming at me harder. It's made me prepare a lot more than I had to in the past."
Staten's role has changed a bit in his senior season for the Mountaineers (19-6, 7-5).
"He's not playing the minutes he did a year ago (30.9 compared to 37.3) ," coach Bob Huggins told WVUsports.com. "He doesn't have the ball in his hands as much as he had it a year ago. He has it in his hands when we need a basket obviously. He's gone out of his way to share the ball, gone out of his way to get other people involved. He is playing much harder on the defensive end, even though he was first-team all-Big 12 defensive team a year ago. He's playing harder. He's more mature."
Staten — he averaged 18.1 ppg as a junior — hit 14 of 20 free throws and scored 24 points with nine assists in West Virginia's 92-86 win over KU last season in Morgantown and scored 22 points with four assists in WVU's 83-69 loss to KU in Lawrence. Andrew Wiggins exploded for 41 points in the game in Morgantown.
"We came to play, had a great game plan, had a great crowd behind us," Staten said of the home win versus KU.
He has a healthy dose of respect for the Jayhawk players, most notably, "Perry Ellis. He just gets it done. He's not playing for the crowd or playing for himself. He just goes out every day and gets it done," Staten said.
KU coach Bill Self, whose team enters 21-4 overall and 10-2 in the league, has similar respect for Staten.
"He killed us last year," Self said. "We couldn't keep him in front of us. He's fast, gets to the paint whenever he wants to. He's tough. He's a terrific guard. He was fabulous against us in Morgantown and played well against us at our place, too. You talk point guards, he's definitely underrated (nationally). He didn't get the national respect he deserved last year."
Staten toyed with the idea of entering the NBA Draft after his stellar junior campaign.
"My goal is to be the first point guard taken in the draft. I made that a goal after the season last year because I didn't know if I wanted to leave or return," Staten told the J-W. "After talking to my family and coach ... we looked at the players who were leaving and the players who were returning and figured if I'm going to be here another year, I need to make a great goal."
The former University of Dayton player, who has played three seasons at West Virginia, says he's learned a lot from demanding coach Huggins.
"He's loud on the court. Off the court he's completely different. He helped me mature, helped me approach the game differently, with a different attitude," Staten said. "He's helped me grow up and become a man.
"It takes a special guy to play for him," Staten added, reminded that several Mountaineers have transferred since he's been at WVU. "He critiques you. He's a perfectionist. He's always striving toward being as perfect as possible. With that, sometimes he gets frustrated at you. Sometimes he yells at you. If you stick with it, he'll bring the best out of you."
Asked why some have not been able to handle the criticism and departed Morgantown, Staten said: "I can't speak for them. They left and I'm here. I guess it's not for everyone. That doesn't mean it's not special."
Staten is hoping all his hard work will pay off with his first appearance in the NCAA Tournament. West Virginia appears a lock to make the NCAAs.
"That's my biggest goal. Since I've been in college I haven't been able to play in the tournament. At Dayton we didn't make it," Staten said. "The year I came here, when I had to sit out, we made it. The years I played we didn't. That's weighed on me a little bit. I'm definitely looking forward to making it to the tournament this year. That's been a reason we play as hard as we play. It's something we're trying to make happen."
A win tonight would certainly help the Mountaineers' cause.
"I think they've had a great year. Huggs has them playing very hard," said Self. "They'll press missed free throw, trap first pass. It'll be an unconventional game like Missouri played when Mike (Anderson) was there. They do even more pressing than that.
"We have to meet every pass," Self added, "because what West Virginia does better than everybody in America is turn you over and turn points into turnovers. We'll have to do as good of a job as we've done all year attacking pressure, taking care of the ball and not having live ball turnovers."
West Virginia has committed 324 turnovers this season while forcing 533. In Big 12 play, the Mountaineers have committed 167 and forced 234.
"We've got two really good point guards. We know we have to be aggressive and attack," said KU sophomore Wayne Selden Jr. "Just be aggressive and try to attack it."
"We have to get after the ball from the jump, from the get-go," said freshman forward Cliff Alexander. "We've been working on that, hit the closest man to the nearest outlet to get the ball up the court, push the ball down the floor, don't let them slow us down."
This, that: West Virginia has lost three of four games following Saturday's 79-59 setback to Iowa State in Ames. Staten scored 16 points off 6-of-11 shooting and dished seven assists versus two turnovers in 34 minutes. No other Mountaineer player was in double figures. ISU had 16 turnovers vs. the press; West Virginia a whopping 19 turnovers. ... KU leads the all-time series, 3-1. KU is 1-1 at WVU Coliseum, losing last year, 92-86, and winning in 2013, 61-56. ... Bill Self is 3-1 versus West Virginia; Bob Huggins 1-7 vs. KU, 1-3 as West Virginia coach. ... West Virginia has two double-digit scorers, Staten and Devin Williams (11.1 ppg).
Stripes: Fans attending today's game are encouraged to take part in a "Stripe the Coliseum" event. Fans will wear gold or blue depending on which section their seats are located. A detailed map of the color layout can be seen at www.wvusports.com/stripethecoliseum.
Possible Starters
KANSAS (21-4, 10-2)
F — Perry Ellis (6-8, Jr.)
F — Cliff Alexander (6-8, Fr.)
G — Frank Mason III (5-11, Soph.)
G — Wayne Selden Jr. (6-5, Soph.)
G — Kelly Oubre Jr. (6-7, Fr.)
WEST VIRGINIA (19-7, 7-5)
F — Jonathan Holton (6-7, Jr.)
F — Devin Williams (6-9, Soph.)
G — Juwan Staten (6-1, Sr.)
G — Daxter Miles (6-3, Fr.)
G — Gary Browne (6-1, Sr.)