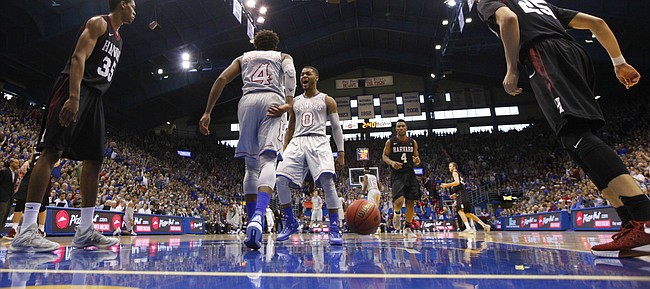 There certainly was angst in the Allen Fieldhouse stands during crunch-time on Saturday, with No. 4-ranked Kansas University and 22 1/2-point underdog Harvard tied at 56 with 7:35 to play.
No trepidation existed in KU's huddle, however. 
The (6-1) Jayhawks actually relished the opportunity to win a nail-biter against the (2-6) Ivy League school.
"Coach (Bill Self) was smiling. He was like, 'Embrace it. Smile ... Enjoy these dogfights because this is what we need,''' KU junior forward Landen Lucas said after the Jayhawks' 75-69 victory.
Photo Gallery
Kansas basketball v. Harvard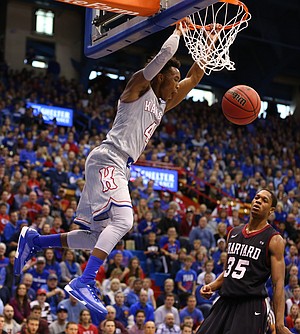 Images from the Jayhawks' matchup against Harvard on Saturday at Allen Fieldhouse
"That's the stuff coach does," Lucas added after grabbing eight rebounds in 24 minutes on a day the Jayhawks were out-boarded, 39-31. "He likes competing. That was a competitive game and we won. It wasn't a pretty game, but we got it done."
Senior forward Perry Ellis — he scored the first five points as the Jayhawks built a 16-point first-half lead — accepted a pass from Lucas and hit a bucket and foul shot to bust the 56-56 tie with 7:17 left. 
Podcast episode
Kansas basketball coach Bill Self speaks with the media about the Jayhawks' 75-69 victory over Harvard, a game which included the Crimson tying the game late in the second half and KU getting out-rebounded 39-31.
Ellis then hit a jumper to up the lead to 61-56 at 6:22. 
The game was far from over, but KU never saw its lead dip below three points (:26.8 seconds) the rest of the way.
"Fans will think I'm nuts ... I thought we played pretty well," Self said. "We got the ball exactly where we wanted it. We didn't have any big guys score the ball very well today (Ellis had 12 points off 5-of-11 shooting and Lucas five, 2-2 shooting). We missed a lot of free throws (KU was 13 of 25; Harvard 12 of 15) that obviously could have made the game less interesting late.
Podcast episode
Kansas basketball players Frank Mason III, Devonté Graham and Landen Lucas speak with media members about the Jayhawks' tight 75-69 victory over Harvard, Saturday at Allen Fieldhouse.
"(But) we needed some late-game pressure put on us and real-game pressure. We had some individuals that didn't have great games. As a team I didn't think we played awful. I thought our defense was pretty good (Harvard hit 43.9 percent to KU's 47.5 mark). We didn't rebound the ball other than Landen. (But) I don't leave here discouraged at all because I know we can make free throws and I know we can make layups," Self added.
The closeness of the game made Self tighten his rotation the final half. Lucas, who missed Tuesday's 94-61 win over Loyola because of a big toe injury, played 19 minutes the final half, grabbing six rebounds while guarding rugged Zena Edosomwan, who had 10 points and 11 boards. 
Ellis played 17 minutes the second half, while Jamari Traylor played one minute and Cheick Diallo two, Carlton Bragg and Hunter Mickelson none.
"Landen was by far the best player in the game," Self said. "He did a great job on No. 4, Zena. He's a monster. Landen didn't even need traps for the most part."
Lucas — he said his left big toe was "a little sore, but not giving me too much trouble," — knew his job was to get some rebounds on a day the Crimson dominated the boards.
"It's something I really take pride in," Portland, Oregon junior Lucas said of rebounding. "I really enjoy it. Whenever we are kind of struggling in that area, I feel he (Self) knows when I get out there that's going to be one of my top priorities, just going after the rebounds. Making sure my man doesn't get it is Part One. If it's an opportunity for me to get it myself, it's Part Two."
Frank Mason III (career-high tying 21 points, five assists, four steals) and Devonté Graham (12 points, four boards, three assists, three steals) played 20 and 19 minutes respectively the final half to go with Ellis' 17 minutes. Wayne Selden, Jr., who had foul problems went 10 minutes the final half, finishing with nine points and four assists in 22 minutes.
"Me being here so long, I can kind of tell how coach is feeling in certain situations. I think that was the way the game was flowing," Lucas said, not surprised at all by his second-half playing time. "When I got in there I was able to defend No. 4 and try to help out on the glass. It's something we needed. I felt like he (Self) recognized that and kind of rolled with it after that."
Self was asked about the use of the bigs.
"I love Cheick, but Cheick couldn't guard No. 4 as well as Landen," Self said. "We can say Cheick and Carlton are the two best prospects we have with our big guys without question. You go 2-for-8 (combined) and you are not great defensively and the majority of shots are in pretty tight. They had some opportunities. Probably the game situation is the only reason they didn't play more. We decided to go with three bigs the second half for the most part. Fortunately Landen played as well as he did defensively and rebounded the ball."
Lucas said the youngsters will benefit.
"This is good for them," Lucas said. "Cheick's last game ... after the first half we cruised through it. This was his first time out there really against a solid team, a really good team. Guys like Carlton and him ... they will learn. This is what we need because we know we need them going forward, going into March. If we can come out with a win we can learn, they'll learn and they'll grow."
Lucas said KU, in the final analysis, should have built on its early 32-16 lead.
"If you give any team confidence, they are going to end up being more aggressive," Lucas said. "They did a great job with that. We can't let teams stay in it that long, especially with the home-court advantage we have. We shoulda cut them out in the first half. We didn't. They got confidence and stuck around. They're a good team."
KU did have receive clutch play from Graham, whose three gave KU a 64-58 lead at 5:41 and Mason, who stretched a four-point lead to 67-60 with a three at 4:31.
Lucas hit a shot to up a five-point lead to 71-64 at 1:44. Graham and Mason went four of six from the line in the final :36 seconds as KU held on.
"Frank and Devonté's perimeter defense was exceptional," Self said. "Frank and Devonté were good. Everybody else ... we kind of pieced it together. We've got to tighten some things up and have got to be able to throw it into somebody and be able to make a basket," he added.
KU will next meet Holy Cross at 7 p.m., Wednesday in Allen.
— See what people were saying about the game during KUsports.com's live coverage
---
---
---
More news and notes from Kansas vs. Harvard
---