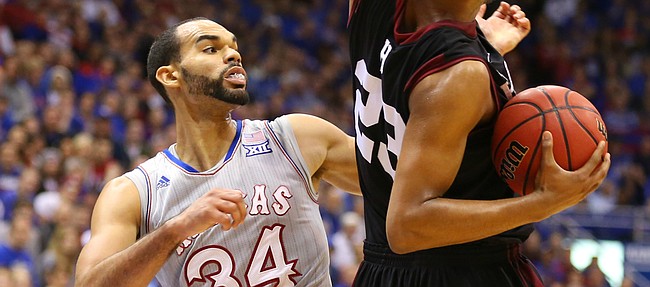 Kansas University senior forward Perry Ellis elected to not challenge Harvard's Agunwa Okolie on a one-handed dunk early in Saturday's 75-69 win over the Crimson in Allen Fieldhouse.
The lack of resistance on the slam bothered KU coach Bill Self.
"I'm leaving out of here thinking we can play tougher. Who lets somebody come down the middle of the floor, take off from half court and dunk it on our head ... and get out of the way? I mean nobody does that," said Self, who never singled out Ellis by name, just discussed the play in generalities.
"That's competitive. That set the tone and gave them confidence. I just hate that we can't be more competitive than that in certain situations."
Photo Gallery
Kansas basketball v. Harvard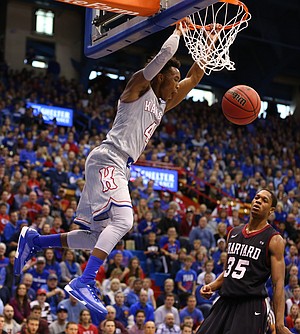 Images from the Jayhawks' matchup against Harvard on Saturday at Allen Fieldhouse
Self continued: "We've got basically six big guys we can put out there, so why in the world would one of 'em let a guy take off from half court and dunk on our head to start the game? I mean that is just unbelievable to me. I mean, unbelievable. One foul when we've got 30 to give and we can't foul once? That's the kind of mindset I think we have to correct. If we correct that we'll obviously become more aggressive. We'll rebound the ball better because we'll have a more aggressive mindset."
Ellis, who scored the first five points of the game and five straight to bust a 56-56 tie, accepted blame.
Podcast episode
Kansas basketball coach Bill Self speaks with the media about the Jayhawks' 75-69 victory over Harvard, a game which included the Crimson tying the game late in the second half and KU getting out-rebounded 39-31.
"That's definitely my fault. I should have definitely stopped that, stopped that play," Ellis said of the runaway dunk. "It's something moving forward I won't let that happen again."
Ellis — he made the all-Maui Invitational tournament team in Hawaii — had 15 points off 5-of-9 shooting against Loyola on Tuesday and 12 points off 5-of-11 shooting on Saturday vs. Harvard. He's missed several inside shots of late.
"I'm just glad we got the win," Ellis said Saturday. "Missing bunnies and stuff ... it's something I'm going to get out of, try not to think about it too much. You've just to got keep playing and grinding through.
"It's something I can't ... I don't want to worry about. I'm going to get through it. I definitely am. I've just got to keep fighting and working hard in practice and it'll be good."
He hurt his hip in a Maui semifinal win over UCLA.
"I got my hip hurt a little bit. (It's) kind of slowed me down a little bit like endurance wise, but overall that's not an excuse or anything. I'm going to put it on myself to keep competing and I'll be good," Ellis added. "I'm going to keep my head up, keep working hard and things will be good."
— See what people were saying about the game during KUsports.com's live coverage
---
---
---
More news and notes from Kansas vs. Harvard
---