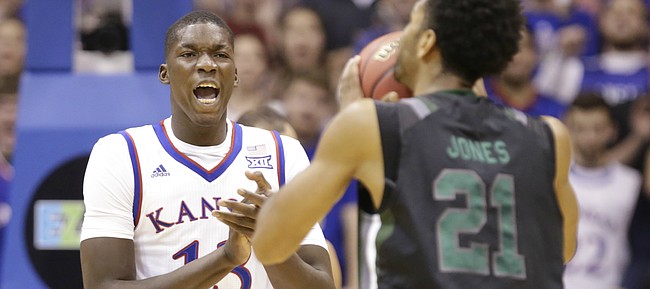 An approachable guy who usually has a smile on his face, Cheick Diallo spoke with several members of Kansas University's student body during his time on campus on Tuesday morning.
"My classmates were, 'Oh, Cheick, we're coming to watch you today. Let's go, Cheick.' People were tweeting, 'Cheick, we can't wait for you. We can't wait.' Today was the day. I had to prove to everybody I can play," Diallo, KU's 6-foot-9 freshman forward from Mali said, after a productive 13-point, six-rebound, three-block college basketball debut — a performance that helped the Jayhawks blitz Loyola Maryland, 94-61, Tuesday night in Allen Fieldhouse.
Diallo — who was subject of a little joke by his teammates when the Jayhawks had him run onto the court first for warmups, but did not follow through the northwest tunnel, leaving him out there alone — received a loud standing ovation when he entered for the first time with 12:57 left in the first half.
Photo Gallery
Kansas basketball v. Loyola (Md)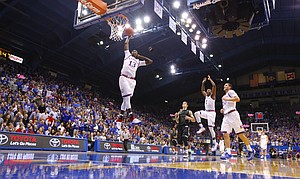 Images from the Jayhawks' Tuesday night game against the Greyhounds at Allen Fieldhouse
Like his teammates, he had a less-than-stellar half. He scored no points with one rebound, a block and turnover while committing two fouls in six minutes, KU leading just 40-36 at the break.
"I was thinking about this game all day, what I'm gonna do — rebound, block shots. The first half I played seven, eight minutes. I got zero points. I was thinking, 'Wow, what am I supposed to do the second half now?''' Diallo said. "I was so scared and nervous at the same time, but now I'm so excited. The game is over and I played really, really well."
Podcast episode
Kansas basketball coach Bill Self points out the positives and negatives from freshman big man Cheick Diallo, who came off the bench to provide 13 points and six rebounds in his first collegiate game, against Loyola Maryland.
He was a human highlight-reel the final half. 
His first points as a Jayhawk following his five-game, NCAA-mandated stint on the sidelines came on a dunk off a behind-the-back pass from Wayne Selden Jr. After grabbing a rebound and scoring inside, he flushed a lob from fellow freshman Carlton Bragg. Diallo waved his arms wildly to the crowd after that slam and after a blocked shot that came shortly after.
Podcast episode
Kansas basketball players Wayne Selden Jr. and Perry Ellis join freshman Cheick Diallo in discussing his KU debut against Loyola Maryland, a 94-61 rout that featured plenty of Diallo highlights.
"That's my new style," Diallo said of the celebratory wave.
He also hit an 8-foot shot, dove to tie up a Loyola player and had the play of the game, blocking a shot and dribbling the ball 3/4 of the court, slamming with his right hand while placing his left hand on the back of his neck.
"I thought that was cute. That was nice," KU coach Bill Self said. "I told him after, 'Cheick, we don't do that.' That's what he did. So that's fine. He was having fun. That's great. I'm happy for him. The kid waited a long time to get out there."
Diallo explained: "I mean I used to do that even at my high school. In the Jordan Brand Classic I did that, too," Diallo said, noting he was "kinda nervous" he'd lose the ball on his jaunt down the court.
Selden., who led the way with 18 points, six boards and four assists, enjoyed the flashy dash down the court and dunk.
"I didn't see it coming. I didn't know what to expect," Selden said. "I'm just glad he made it, because freshmen get on that fast break, you never know what could happen."
Diallo finished perfectly, to the delight of the fans.
"I don't know what I was doing at the beginning of the game," Diallo said. "I still kept playing hard, just like coach tells me: 'If you turn over the ball, don't put your head down. Just keep playing hard every single time.'''
Self said he and his staff members hoped for the best, but knew Diallo would be nervous.
"We don't bet, but we had a friendly handshake wager what would happen the first shot he took. The over/under was air-ball," Self said. "Fortunately he got an easy basket (off the Selden feed). After that happened, he was fine from a nervous standpoint. I thought he did great. Our team was really bad the first half. I thought he did fine the first half, even though the team wasn't great. The second half, the team played better."
Diallo played so well, he's planning on phoning family members in Mali with details of the game today.
"I can't wait ... I want to call my dad. They could not watch. Some way I can send a tape so they can watch it tomorrow," Diallo said, proudly. "I've got to call my parents."
He was asked by a reporter if in the final analysis the long wait for NCAA eligibility was "worth it."
"Of course," he said. "Of course."
KU (5-1) will next meet Harvard at 2:15 p.m., Saturday, in Allen.
— See what people were saying about the game (and Cheick Diallo) during KUsports.com's live coverage
---
---
---
---
---
More news and notes from Kansas vs. Loyola
---