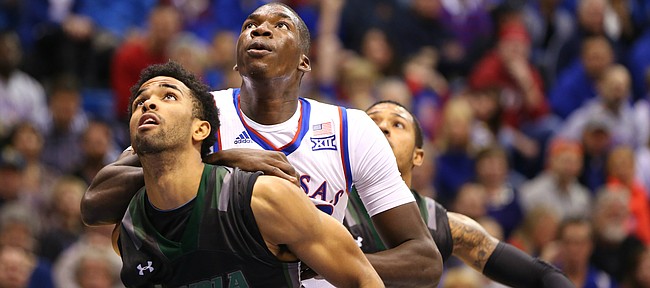 Last week, while the Kansas University men's basketball team was soaking up the sun and sprinting to a Maui Invitational title, Loyola coach G.G. Smith was enjoying a crash course scouting report on the Jayhawks' three games in three days.
If he didn't know it before KU opened play in Maui, Smith quickly learned that a freshman from Mali, Africa, named Cheick Diallo and his fight with the NCAA for eligibility was causing quite a stir in Lawrence. He also learned during KU's title-game win over Vanderbilt that Diallo's first game would come against his Greyhounds.
Podcast episode
Kansas basketball players Wayne Selden Jr. and Perry Ellis join freshman Cheick Diallo in discussing his KU debut against Loyola Maryland, a 94-61 rout that featured plenty of Diallo highlights.
As if coming into Allen Fieldhouse to take on a top-five team was not already hard enough, Smith now had a whole new set of problems. And Tuesday night, during KU's 94-61 victory, those problems were on full display as Diallo raced to 13 points, grabbed six rebounds and blocked three shots to help lead Kansas (5-1) to the easy victory.
Photo Gallery
Kansas basketball v. Loyola (Md)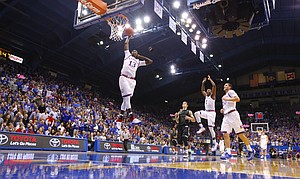 Images from the Jayhawks' Tuesday night game against the Greyhounds at Allen Fieldhouse
"We knew," said Smith when asked if he was aware that Tuesday was Diallo's debut. "I heard the commentary and I tell you what, he's a pretty good player. I was really impressed with him. For being his very first game, he's very active, he's very athletic, he's long, he can rebound the ball. He obviously needs to work on his free throws (1-of-4 shooting from the line), but he's a pretty good player for a freshman."
Smith said Diallo's presence did not alter the way the Greyhounds (1-6) prepared for Tuesday's showdown in any way. Instead, they tried to treat it like any other trip to a big-time venue.
For 20 minutes, that preparation worked fabulously, as the Greyhounds twice cut into nine-point KU leads and trailed by just four at the half. Two minutes into the second half, however, things had changed completely and Kansas was on its way to another rout.
"I thought we played really hard there in the first half," Smith said. "We ran some offense and our guys really executed offensively. We got a couple turnovers and were able to keep it a game, but in the second half they started with an 11-0 run and we just couldn't catch up. That's Kansas.
"Our guys have been to Syracuse, we've been to West Virginia, we've been to Duke in the past. But this place is really, really special. Emotion really takes care of the guys and we couldn't fight through."
While the play of KU guards Wayne Selden Jr., Frank Mason III and Devonté Graham impressed Smith as much as anything, the Loyola coach said he could tell from Diallo's 16 minutes on the floor that the 6-foot-9 forward is a game changer for the Jayhawks.
"Having him available, and once he gets better come conference play, I think he'll elevate them to the next level," Smith said. "They're definitely a Final Four-looking team for sure."
— See what people were saying about the game (and Cheick Diallo) during KUsports.com's live coverage
---
---
---
---
---
More news and notes from Kansas vs. Loyola
---