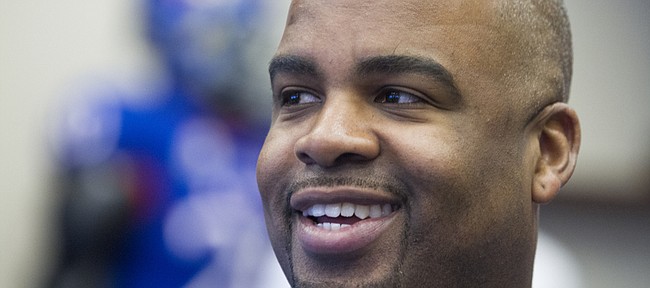 When Calvin Thibodeaux runs defensive line drills at Kansas University football practices, he doesn't do so lightheartedly.
Sure, he barks out instructions and critiques mistakes so his players get the most out of their work. But the first-year KU assistant coach is just as likely to jump in and demonstrate what he wants. Hopping, cutting, running and working up a sweat are all fair game along the way.
And why not? Less than 10 years ago the defensive-line coach played the position at Oklahoma and led the Big 12 in sacks (10) in 2005, when he was first-team all-conference.
Thibodeaux, who worked previously at Tulsa and Navarro College and spent two seasons as a graduate assistant at Houston, said it didn't take long once he landed at KU for the Jayhawks on his unit to research his playing days online.
"I think it brings some credibility when they look up and see that you've played at the University of Oklahoma and you've had some success," said Thibodeaux, who played in the Holiday and Fiesta bowls in his final two seasons. "I think it's easy to kind of grab those guys, and they follow you."
KU defensive coordinator Clint Bowen said the 2006 OU graduate has an energetic personality, and it shows in his coaching, just like it did when he was a Sooner.
"He's gonna stay on them until they get that step right. He demands details out of the players," Bowen said. "That's something that's important at all the coaching spots."
"Coach Thibs," as he's called, loves the vibe surrounding new head coach David Beaty's entire staff, and he thinks the coaches' hunger and hard work will make a difference as they attempt to rebuild a downtrodden program.
"When you put us all together in one room, you feel that energy," Thibodeaux said. "You feel that. Players are gonna pick that up from us."
This spring, Thibodeaux is working with what could prove to be one of KU's best units in 2015. With senior defensive ends Ben Goodman and T.J. Semke, junior ends Damani Mosby and Anthony Olobia and senior tackles Kapil Fletcher and Andrew Bolton, Thibodeaux has veterans up front. Red-shirt freshman D.J. Williams and mid-year transfer Jacky Dezir, a sophomore, figure to make an impact, too.
"As long as everybody has that same vision and guys buy in," the coach said, "good things will happen."
It helps, Bowen points out, that Thibodeaux understands what it's like to go to battle in the Big 12. KU players easily can turn to him with questions and trust his answers.
"You can always kind of tell when players come to see their coaches in their office a lot, there's usually starting to be some relationship built," Bowen said. "The D-line is in his office quite a bit."