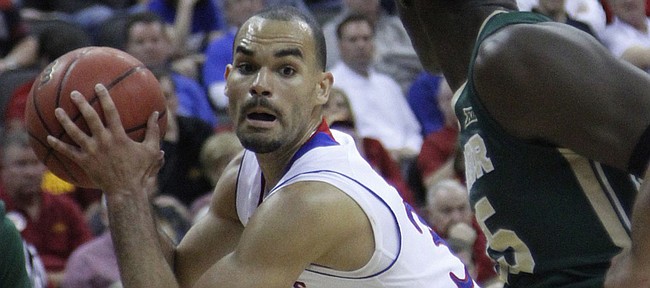 The NBA Undergraduate Advisory Committee has provided Kansas University junior forward Perry Ellis information on his draft stock as he decides whether to enter the 2015 NBA Draft or return to KU for his senior season, coach Bill Self said Wednesday.
"I would say Perry is a smart kid. He's got some things to think about, but his head is in the right place," coach Bill Self told the Journal-World on Wednesday, the day after Cliff Alexander announced plans to join fellow KU freshman Kelly Oubre Jr. in the June draft.
"He is doing everything all our other players are doing. There's no reason to push him to do anything because this was the game plan all along, have a year, evaluate it and see what happens, basically the same thing we did last year," Self added.
Self said he annually files requests for reports on several of his players with the undergraduate advisory committee. The committee consists of NBA player-personnel experts who provide potential early entries with detailed figures regarding their standing as pro prospects.
"I did it for six guys this year," Self said, not naming names. "It's something you submit toward the end of the season. Last year I did it for four, five guys. I'll always do it. The majority of coaches out there that would have anybody on the bubble would probably do the same thing as well. It's a way kids can get some form of accurate information that would allow them to digest it and make a decision that would be more educated. This is something you go through. The players are aware of it. They and the families get the information like the coaches do."
Self explained, "The advisory committee was something put in place years ago. It allows underclassmen to submit their names to figure out where this committee feels they would potentially go in the draft if they were to come out based on what this committee feels the consensus would be. This advisory deal is a tool to help families and players get accurate information."
Ellis, who averaged 13.8 points and 6.9 boards last season, has been mentioned as a possible second-round pick. None of the mock drafts have yet placed him in the first round. ESPN's Chad Ford does not have him among his top-100 draft prospects.
Players have until April 26 to declare; however, the last day a player can pull out of the draft and come back to school is Sunday. If a player declares after Sunday, he is in the draft for good.
Self said he has put no timetable on Ellis. KU's basketball banquet is Monday night.
"Perry obviously has some things to think about with his family, but that's what we've known the last three months would be the case," Self said.
Ellis' mom, Fonda, told the J-W on Wednesday, "Now that Perry has the report back (from NBA) and met with coach Self, we plan to discuss things this weekend as a family. Not sure if he will know by Monday or not but we have a plan in place to at least talk about it."
The roster in limbo: KU, which has received an oral commitment from Carlton Bragg, a 6-foot-9 senior from Cleveland's Villa Angela St. Joseph High, has three scholarships left to give in recruiting, four if Ellis turns pro, more if anybody transfers.
Will the roster be finalized soon?
"No, not at all," Self said. "We are still actively recruiting a few guys. We don't know the timetable in which they are going to make a decision."
Prep prospects who are considering KU include No. 2-ranked (by Rivals.com) Jaylen Brown, 6-7, Wheeler High, Marietta, Georgia; No. 3 Malik Newman, 6-3, Callaway High, Jackson, Mississippi; No. 5 Thon Maker, 7-foot, Orangeville Prep, Mono, Ontario; No. 7 Cheick Diallo, 6-7, Our Savior New American, Centereach, New York; No. 11 Stephen Zimmerman, 7-foot, Bishop Gorman High, Las Vegas; and No. 19 Brandon Ingram, 6-8, Kinston (North Carolina) High. Michael Thorne Jr., a 6-11 senior transfer from UNC Charlotte, is considering KU, Pitt and Illinois. Bragg is ranked 15th.
Summer roster: KU, which will represent the United States in this summer's World University Games in South Korea, will be allowed to field a 12-man roster.
"It'll definitely be all our scholarship guys, minus international players. Svi can't go," Self said.
KU freshman Sviatoslav Mykhailuk, who is a native of Ukraine, obviously can't play for the KU/U.S. squad. If KU doesn't have 12 scholarship players, Self could add former KU players between the ages of 17 and 24. Incoming freshmen and transfers are eligible to play for the KU/USA team.
Restrictions: Johnathan Williams III, who has decided to transfer after leading Missouri in scoring this past season, tells the Columbia Tribune he has been restricted from transferring to Arizona and Illinois and any schools in the Big 12 or SEC. Illinois and Arizona will be on MU's schedule in 2016-17, and Missouri annually faces a Big 12 team in the Big 12/SEC Challenge. The 6-9 sophomore told the Detroit Free Press he is considering Michigan State.
Brown's video: Jaylen Brown has put out a Bleacher Report video at http://ljw.bz/1GqWOo7 to announce officially his eight finalists.
In the video, he was on the court wearing the jerseys of KU, Cal, Georgia, Michigan, Georgia Tech, UCLA, Kentucky and North Carolina. "You'll find out soon enough," he said at the conclusion of the video.