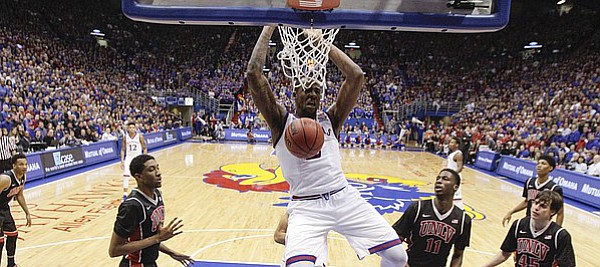 I feel sorry for Cliff Alexander.
Not because he said that Lawrence is the birthplace of basketball on one of those silly videos that one-and-done players make to announce the inevitable. It's Springfield, Massachusetts, of course, but since James Naismith is buried in Lawrence, some twist that to mean basketball was born here, too.
I feel sorry for Alexander because I think if the system were as it should be and the NCAA allowed a player to hire an agent, declare for the draft, and return to school if he doesn't like the draft outcome, Alexander could have a bright basketball and financial future.
As it stands, things look a little murky. Only first-round draft choices receive guaranteed contracts. All it takes is one general manager to select Alexander in the first round, and the freshman from Chicago has a nice nest egg, plus a team that has so much invested in him that they'll do everything they can to develop him.
But why would a GM invest that much in a 6-foot-8 power forward who has yet to demonstrate basketball skill and a feel for the game? He's explosive, has a frame that suggests he could pack on muscle, and his long arms give him the potential to play taller than 6-8.
Still, his ceiling probably equates to journeyman power forward, a la Thomas Robinson.
Had Alexander not been punished for the reported actions of his mother — what other segment of society makes a teenager pay for a parent's misdeed? — and had he decided to stay at Kansas for three years, as did Robinson, it's not a stretch to think Alexander could have developed into a lottery pick by playing for a winner deep into the tournament.
Now?
We won't know until draft day, but lasting into the second round seems more likely than not. Goodbye sellout crowds and daily practices. Hello, NBA Developmental League, where big men have trouble developing because the guards decide who shoots, and usually that means the guards shoot.
Europe? Of all the players on KU's team this past season, he seemed the youngest socially. Not everyone is ready to make the adjustment to living and working in Europe.
Kansas could have made good use of Alexander for another two years by developing him, but not to the extent he could have benefited from staying.
First-round lock Kelly Oubre had too much to risk by staying. Alexander, in danger of having a career akin to that of Josh Selby, had too much to risk by leaving, if, that is, his mother running afoul of the NCAA even left that as an option.