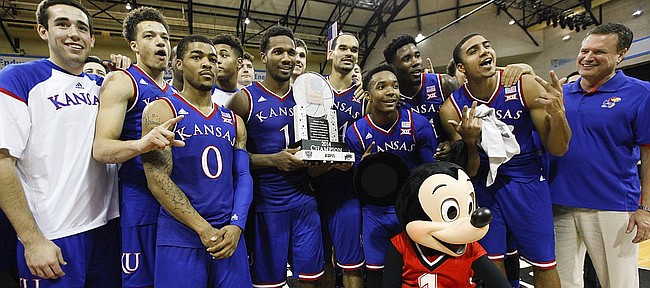 Photo Gallery
Kansas basketball v. Michigan State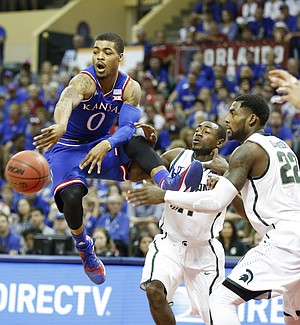 Images from the championship game of the Orlando Classic between the Jayhawks and Spartans
Podcast episode
Bill Self, Perry Ellis and Frank Mason talk after KU defeats Michigan State, 61-56
KANSAS 61, MICHIGAN STATE 56
Kissimmee, Fla. — Mickey Mouse stretched to place his over-sized right hand on Perry Ellis' shoulder as the Kansas University junior accepted Orlando Classic MVP honors on Sunday afternoon in HP Field House.
The Walt Disney World mascot gawked at the engraved wrist watch that went to the 6-foot-8 Wichita native following a 17-point, nine-rebound performance that paced the No. 11-ranked Jayhawks to a 61-56 victory over the No. 20-rated Spartans in the tourney's title game.
"I think it's big. It's great for us. We came down here and got better as a team," Ellis said, referring to KU's storming to victories over Rhode Island, Tennessee and Michigan State. "It's just a big momentum boost for us, to continue to get better," Ellis added after the Jayhawks improved to 5-1 and dropped the Spartans to 5-2.
The Jayhawks, who outrebounded yet-another gritty, physical Tom Izzo-coached team, 44-36, and held MSU to 32.2 percent shooting — 24.2 percent the final half — won their first eight-team in-season tournament since the 1999 Great Alaska Shootout.
"I'll say this. To me winning the tournament is OK. It's a good deal, but beating a quality team is more important to me than winning a tournament," KU coach Bill Self said. "We needed to beat a quality team based on a couple of weeks ago."
KU has obviously made noticeable improvement since suffering a 32-point loss to Kentucky at the Champions Classic on Nov. 18 in Indianapolis.
"We are a different team than we were 12 days ago. I'm happy for our team," Self stated. "Gosh, did we compete. I thought we guarded them pretty well and were focused. We couldn't get back (because) they are so good in transition, but we did an unbelievable job on the glass."
Point guard Frank Mason III, who probably could fit into the Mickey Mouse mascot costume, grabbed a career-high 10 rebounds to go with 10 points and five assists against three turnovers in 36 minutes. 
Freshman forward Cliff Alexander had eight boards, four blocks and six points. Wayne Selden Jr., who went 0-for-10 from the field on a day KU hit 37 percent of its shots, went 5-of-6 from the line and had five rebounds. Freshman Sviatoslav Mykhailiuk, who hit a big three right before halftime to cut a four-point deficit to one, also had four boards to go with his three treys.
"I think we made some athletic plays in transition when they had us beat, contesting or altering or tipping the ball in transition above the rim," Self said. "The biggest thing I liked was that I thought we fouled a couple times late in the clock, but I thought we defended the entire shot clock and rebounded the ball. I'm not going to say it was a great defensive performance by any stretch, but I thought we played the scouting report pretty well."
KU used a Landen Lucas stick-back, three from Mykhailiuk, free throw from Ellis and strong basket and ensuing foul shot by Alexander in a 9-4 run that gave the Jayhawks a 54-46 lead with 7:33 left.
Things got tense when Travis Trice (14 points, 3-14 shooting) drilled a three with 1:36 left to cut the gap to 59-56. After a sloppy turnover by KU, MSU's Branden Dawson (eight points, 4-15 shooting, nine boards) missed two inside shots. Mason grabbed the board with :48 to play and KU still up three.
Self called a time out at :32 — one in which he elected to keep Jamari Traylor in the game despite the fact he had heard MSU coach Tom Izzo bark out orders to foul the 63.6 percent free throw shooter. Traylor was fouled and calmly hit a pair of charities to up the lead to 61-56 at :30.7.
Asked if he felt pressure, Traylor, who had an abysmal semifinal against Tennessee, said: "No, because in the time out, coach was going to sub Brannen (Greene) in for me. He was like, 'Brannen get in.' He was like, 'You know what? Mari stay in. You are going to make the free throws. You are going to knock 'em down.' I'm happy he trusted me and I'm glad I came through," Traylor added.
Self explained: "I almost subbed for him, then I said, 'No you're going to make 'em.' They really did a good job denying Frank the ball, so Mari was a fresh release (to get ball after time out). They played it exactly the way Tom told them to play I'm sure. Then Mari stepped up and made 'em."
KU played intense defense the rest of the way. MSU failed to even come close to scoring in the final half minute.
"I'll be honest, I thought we guarded them pretty well," Self said. "I thought they guarded us pretty well. When you play Michigan State, they make you play up over the top the majority of the time. You are not going to get a lot of easy baskets (KU was 3-14 from three). If somebody shoots 45 percent against one of Tom's teams, they've really shot the ball well. We missed some open looks. They missed some open looks. The game really starts when you play them when the ball is in the air a lot of times. I thought we did a good job on the glass."
And of MVP Ellis, who had 24 points and 13 rebounds against Tennessee and 17 points and five boards against Rhode Island, Self said: "To me Perry was the best player in the three days. He was consistent. Today he could have had a big game. He didn't make his free throws (three of seven while hitting seven of 15 shots). I thought he played very well and aggressively. He went after the ball."
KU will next meet Florida at 8 p.m., Friday, in Allen Fieldhouse.
---
More news and notes from Kansas vs. Michigan State
---