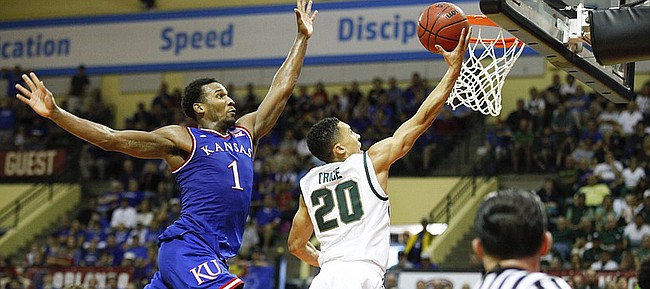 Photo Gallery
Kansas basketball v. Michigan State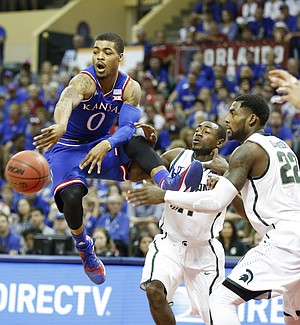 Images from the championship game of the Orlando Classic between the Jayhawks and Spartans
Podcast episode
Bill Self, Perry Ellis and Frank Mason talk after KU defeats Michigan State, 61-56
KANSAS 61, MICHIGAN STATE 56
Kissimmee, Fla. — High-flying Michigan State senior forward Branden Dawson, slowed by the flu since Monday, might have a get-well card waiting for him upon his return from East Lansing, Michigan, but it won't be from his coach, Tom Izzo.
Dawson grabbed nine rebounds, but could only get four of his 15 shots, most from near the hoop, to go down. Izzo was asked if he thought his struggles were related to his lingering illness.
"I'm just not going to comment on that," Izzo said.
And then he commented on it.
"I think a dead man can make a layup," Izzo said. "We missed some layups, and I'm very disappointed in that. But you know, when you're sick — some people play well sick, some people don't. Michael Jordan played well."
For a long second-half stretch, the pace was so fast as to be hurried, and both teams took it hard to the basket, maybe too hard to shoot with a soft touch.
"We missed a lot of layups that (we) usually hit," quick point guard Travis Trice said. "I know, myself, I missed a few. Just the ball falling the wrong way for us. Those are shots we hit every day. Not to take anything away from them, but those are shots we make every day. I think it's more on us."
Izzo said, "You just can't miss easy shots. The number of layups we missed was incredible. I'm not sure Kansas played great. I'm not sure Michigan State played great. Maybe we should be crediting both defenses. They found a way to win. Give them credit. We found a way to lose. Give us blame."
---
More news and notes from Kansas vs. Michigan State
---