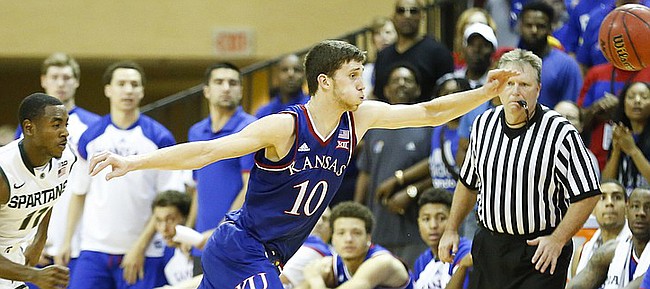 Photo Gallery
Kansas basketball v. Michigan State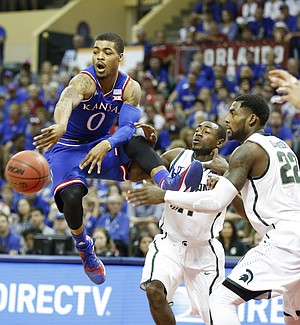 Images from the championship game of the Orlando Classic between the Jayhawks and Spartans
Podcast episode
Bill Self, Perry Ellis and Frank Mason talk after KU defeats Michigan State, 61-56
KANSAS 61, MICHIGAN STATE 56
Kissimmee, Fla — Sviatoslav Mykhailiuk let fly from beyond the arc just before the halftime buzzer of Kansas University's 61-56 Orlando Classic championship victory over Michigan State in HP Fieldhouse.
"I didn't think I would make it. I thought the ball was a little bit left from the rim. It was (a) lucky shot," the 6-foot-8 freshman from Ukraine said of the clutch bucket that sliced a four-point deficit to 36-35.
"It was the greatest shot, great shot," he added, obviously not meaning to brag but merely search for the right words as he continues to attempt to master the English language.
He finished with three three-pointers made in six tries after entering the game just four of 18.
"I'm trying to keep shooting because it's one of my best weapons on the court," said Mykhailiuk, whose three-pointer stretched a 47-44 lead to six points with 10:21 left. "I try to get better (by) practicing. I go shoot by myself. I felt better (today). I was three of six, so it was good."
His teammates were 0-of-8 from three.
"He's been reliable. He hasn't shot the ball well," KU coach Bill Self said of Mykhailiuk, who scored 11 points. "He can really shoot the ball, these guys can tell you. We have to have somebody step up and make some shots. He was 3-from-6 today. That's the only three we made from the perimeter all day. He has to be a guy who continues to look for his shot.
"He's really become a good defender, sound. He understands what we are trying to do for the most part," Self added. "He's a pretty good passer and should be a high school junior (aged 17). He's in that phase a lot has been thrown at him in a short period of time. He obviously has a bright future."
Mykhailiuk was part of a funny moment at the tourney. Before the first-game, during introduction of the starters, there was a long pause when the P.A. announcer saw Mykhailiuk's name placed in front of him.
"I was sitting ready to come in. Tyler (Self, sophomore guard) said, 'Let's go. They will not pronounce your name,''' Mykhailiuk said, smiling. He charged onto the court, the announcer eventually giving the pronunciation a shot.
Svi said he's not surprised he's started four of six games as a mere freshman.
"I didn't know. I was hoping for this. I hoped so," he said.
He also was asked Sunday if it's true he had a lot of offers to turn pro last summer — to play for a European team instead of coming to KU.
"I mean not a lot (of pressure to turn  pro), but enough," he said. "I was talking to my family and coach. We decided to go to college. I like it more than Europe."
Mykhailiuk's teammates were happy to see three of his treys fall.
"He's a big-time shooter," junior Jamari Traylor said. "He's going to step up and make plays. You are not going to make all of them. Be confident. Keep shooting. It'll fall.
"He's automatic in practice," Traylor added. "Every time he shoots it I think it's going in. He hasn't gotten on that roll he usually gets on. He stepped up today and made some big shots, especially at the end of the first half."
Self, by the way, discussed how he became familiar with Mykhailiuk as a recruit. At last year's Final Four, a friend told him he knew the best college-aged player in Europe.
"A lot of people told me he's the best European shooter. He's going to be real good. We get him for two, which is good," Self said of two seasons. 
After two seasons, he'll be eligible for the NBA Draft.
---
More news and notes from Kansas vs. Michigan State
---